We Get Mail
(Below is an email from an American businessman on a fairly recent vacation trip to Jordan, which he found "very reminiscent" of southern New Mexico.)
AN UNEXPECTED COMPARISON
Amman is in the more northern part of Jordan and has some trees and greenery. As you drive south, the land changes quickly, going from the green hills of Amman to basically flat desert, although there are some gently rolling hills. The desert is not sandy as you might expect, but rather rocky, gravelly and ugly. The smaller rocks (up to softball size) are all black from some kind of mineral deposits, giving the land a burnt-over look. The area between Amman and Petra is very reminiscent of southern New Mexico or southern Arizona.
Along the way, every several miles, you will see a Bedouin tent and a small herd of goats or sheep grazing along the hillsides, despite the fact that you can see nothing that might be edible. Very Biblical. The villages are all small, poor, and dun colored. In fact, I suspect that if you were flying over the area, you would be hard put to find the houses, since they fade into the scenery so completely.
As you drive along, the flatness of the terrain is suddenly broken by what appears to be truncated mountains rising sharply from the desert floor. They are steep, about 500 ft high and flat as a pancake on the top–what we would call a mesa in the US. As you get closer, you discover that they are not mountains at all; rather they are piles of dumped dirt-spoil from the local phosphate mines. This is big mining country. And, just to make the trip complete, occasionally you encounter a small area featuring the national flower of Yemen–discarded plastic bags, hung up in the rocks or whatever small scrub might be trying to survive, waving in the breeze, with the sun reflecting off them, making them appear shiny and almost like tinsel.
====================================
BOOKS IN REVIEW By Don Bullis
(The following book review by Don Bullis first appeared in the Rio Rancho Observer and the Grants Beacon newspapers and is herewith reprinted with permission.)
BILLY THE KID: THE LEGEND OF EL CHIVATO

Elizabeth Fackler

Forge Books, 512 pp, $24.95
There is no end to the number of books written about Billy the Kid—William H. Bonney—and New Mexico's Lincoln County War, good and bad. Billy the Kid: The Legend of El Chivato has been around since 1995, but just recently came to our attention. That is so because it is a novel and we usually don't look at historical novels. Oddly enough, this book is probably more accurate than some of the non-fiction books published about New Mexico's most famous outlaw.
Author Elizabeth Fackler did her homework. The greatest value this book has lies in its perspective of the events in Lincoln County in the late 1870s and early 1880s. Anyone who has taken even a casual look at the Lincoln County War knows that it was a confused mess that involved mercantile interests, large cattle interests, small farmers and ranchers, the U. S. Army, civil lawsuits, three different law enforcement agencies, religious and ethnic differences, and the corruption of the Santa Fe Ring, all in an atmosphere of drunkenness, lawlessness and violence. By tracing Bonney's participation, the reader gets a comprehensive picture of what it was all about.
And there is a conflict within the book itself. Fackler says this in her Author's Note: "I have been faithful to the truth in my reconstruction of historical reality but admit my treatise was based from inception on the belief that folk heroes do not attain public adulation without cause. Billy Bonney was 'the' kid, charming and ebullient, a vagabond who lived without a home or a job. Embracing elements of both Robin Hood and Peter Pan, he used his skills of aggression to defend the poor and antagonize the rich, and because he never grew old, he remains forever young."
The problem is that she does not paint her picture of Bonney in this way. Oh, he is charming and well liked by the ladies—he impregnated two of them—and by los pobres—the poor people—with whom he identifies, but he never once takes overt action to protect any of them. Instead he is a sneak thief, an idler, a cattle rustler, a murderer and a roué who acts to avenge the slaying of his friend John Henry Tunstall, probably the richest man involved in the Lincoln County War.
Fackler also says this: "A scapegoat for the sins of his Anglo contemporaries, Billy was sacrificed because he refused to submit to the political and social order of his time. As such, he was a freedom fighter on the western frontier…"
He was a freedom fighter all right, for his own freedom. He murdered two men in his final escape from custody in April 1881. And, had he simply left Lincoln County, and New Mexico when the shooting stopped, as so many other Lincoln County warriors—on either side of the fight—did, he would likely not have come to a violent end at the hands of Sheriff Pat Garrett. But then, of course, the legend would not have grown in the way it has.
This book is highly recommended. Fackler, in addition to her accurate historical chronology, is an excellent writer. The tale is well paced and pleasant reading, flawless in its depiction of life in the American West of the late 19th century.Elizabeth Fackler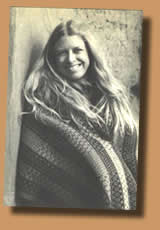 Elizabeth Fackler Sinkovich was born and grew up in Michigan, lived in Texas and moved to Roswell, New Mexico where she lives with her husband, Michael. She has published 12 novels — nearly all in both hardback and paperback. Two were based upon real characters, Texas Lily and Billy the Kid: the Legend of El Chivato. The character of Texas Lily in the book by that name was based upon Lily Casey; Emmett Moss is based upon John Chisum. They knew each other in real life and, in this book of fiction, Fackler imaginatively joined them in matrimony. Billy "the Kid" Bonney is also a fictionalized character in Texas Lily. For a review of Fackler's book, Texas Lily, see the previous issue in archives.
Many of Fackler's books can be found in the public library. To learn more about the author and her books, visit her website at http://www.elizabethfackler.com/ Copies of her books may be purchased, through her site, at Amazon.com. You can reach her at elizasin@trailnet.com.