This website is user-friendly.
The logo and contents of this entire issue and all prior issues, including photos, are protected by all pertinent copyright laws.
====================================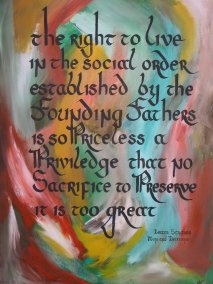 (above) Words from Men and Decisions by Lewis Strauss. Art and calligraphy by Alice Blue Girand in 1977.
FOCUS Page is usually reserved for feature photos, stories and articles about Roswell and regional areas of New Mexico, or current events.
The last (18th) issue documented the British "Dead Famous" TV film crew's visit to Lincoln County. The Billy the Kid portion of that series, filmed this year in Capitan NM on January 14, will be aired June 6 on the Biography Channel, 8 p.m. MST (mountain standard time).
In this 19th issue's FOCUS Page:

* Chaves County Courthouse—Its early history (built in 1911) and recent renovations and addition.
* Memorial Tribute — to a WWII Army nurse, Ruth E. Laumbach, who returned, disabled, from the Philippines on a stretcher.
* John Lovell Interview—An interview with John Lovell, representative for Congressman Steve Pearce's Roswell office for Veterans and Military matters.
* May is Allergies Awareness Month — Allergies in their milder form affect millions of people annually. Anaphylactic Shock is a form that can be deadly. Read about a recent casualty of anaphylactic shock.
* USDA's Current Drought Maps of New Mexico, effective March 17, 2006
Water — our state's most important resource — continues to be a serious issue. Years of inadequate moisture cause drought conditions throughout most of the state. BYWAYS Page is usually (but not always) reserved for exploration of scenic and historical places in and near Roswell and all around New Mexico. Come share the Enchantment.
In this 19th issue's BYWAYS Page:
* Col. J.F.Chaves — A True Son of New Mexico, annotated article by Don Bullis
* Col. José Francisco Chaves —Chaves County namesake: soldier, legislator, educator — his bust and plaque are housed in the courthouse.
* Fort Stanton — A pictorial review of historic Fort Stanton.
* Dad Peppin—The role he played in the Lincoln County War, by Don Bullis.
* A Bonney Ballad — A bit of Billy the Kid history put to rhyme.
We continue to explore Billy "The Kid" Bonney's Origins, a subject that remains a mystery. That exploration is often, but not always, found on the Byways Page. Click Archives button to look at prior issues.
LIFESTYLES Page features people and groups of people who have affected Roswell, its outlying areas or the state of New Mexico, now and long ago. Sometimes it also features lifestyles of the not too distant past in essays. Varied lifestyle subjects of interest, such as elder care, health and fitness, and investments will also be featured in some issues.
In this 19th issue's LIFESTYLE Page:
* PatGarrett-BullIs — Various annotated versions of the demise of Pat Garrett, best known for killing Billy the Kid Bonney in Fort Sumner in 1881, presented by Don Bullis, NM historian and author.
* "Doc" Robert Sproull — Retired prosthodontist now applies his state-of-the-art metallurgy artistry and tools, and his inquiring mind, to other avocations. INDUSTRY Page is usually reserved for articles about our local industries that include: dairies, wool growers, oil and gas, ranching, agriculture, pecans, bus manufacturing, the various airplane industries and of course the tourist industry, which for Roswell naturally includes UFOs and aliens. UFOs and aliens are usually featured in July during Roswell's annual UFO Festival.
This 19th issue's INDUSTRY Page features Roswell's newest industry, Aliens and UFOs, known as the Roswell Incident, and book publishing.
* The Roswell Incident — Roswell's newest industry: Aliens & UFOs
* Bull's Eye, by Don Bullis — A review of the book by Don Bullis that was recently published by ABQ Press.
* ABQ Press — An overview of a new publishing company in Albuquerque.
* Don Bullis — A brief bio on historian, columnist and author, Don Bullis. OPINION Page is mostly reserved for editorials, essays, short stories, poetry and emails.
In this issue's OPINION Page:
* Did you know that a website and its contents, like a book, is legally considered to be an Intellectual Property? It can be stolen, sold and purchased.
What To Do and Don't Do concerning your own website, and why this web magazine had no new issues (between issues 17 & 18) for two years. NEWS Page (currently empty, "under construction") sometimes has links to news-stories in other publications. LEGISLATION Page lists some legislative bills introduced in both houses during and soon after a New Mexico Legislative session. It is currently empty ("under construction" as they say in website-lingo).
ARCHIVES Page holds, for easy retrieval, prior issues. As this is Roswell Web Magazine's 19th issue, the Archives contain the first 18 issues, by page/category.
RWM