HISTORY 101 / CONNECT THE DOTS
by Jan Girand
This piece is dedicated to Mary Louise Maestas of Las Vegas NM who died in 2005. She was the first to share some of the following vignettes of history with me over long telephone discussions beginning in 1998 or 1999. It was from Mary Louise that I first heard about José Antonio Esquibel and some of that early genealogy information he provided, and about the shipwreck near Corpus Christi, where her daughter lives. My cousin, Karl Laumbach, gave me copies of some of Esquibel's written genealogy as well as the book, Seeds of Struggle/Harvest of Faith, mentioned below. In the small-worlds department, a friend, author and historian, Don Bullis, has also published pieces in his New Mexico Historical Notebook about L'Archèvèque and Grolet.
In yet another small-worlds department, my mother had known Angélico Chávez in the mid-1930s when he was a handsome young priest. When my parents resided for a while at Domingo, Angélico's mother and sister, whom my mother loved, lived in nearby Pena Blanca.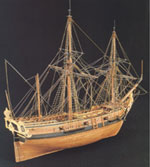 Scale model of Belle, the 1686 shipwreck recently found in Matagorda Bay.
In 1595, don Juan de Oñate organized a large expedition of soldiers, settlers and clergy to colonize lands for Spain and the Catholic Church. That land to be colonized, now known as New Mexico, was then inhabited by multiple tribes and pueblos of American Indians.
That era is now called the colonial period in New Mexico's earliest recorded history, when those Europeans came to the New World to colonize these lands for God and king. During the initial years of the colonial period, marriages, births and deaths were recorded by the Catholic Church but the earliest records have not survived. Most were probably lost during the Pueblo Revolt of 1680.
The Spaniards, ousted by the Indian revolt, returned in late 1693; settlers again established church communities within the pueblos and settlements, and marriages, births and deaths were recorded. Some of those early records survive. Enduring records began to be more complete in the 1700s, and for an extended time, Santo Domingo Pueblo became the archival place for those records for the entire colonial area of New Mexico. But an 1886 flood and poor record-keeping caused further loss.
In 1954, Fray Angélico Chávez, with the Church's blessing, began the awesome task of translating into English, cataloguing and filing the entire existing collection of sacramental records spanning 300 years of New Mexico history. From the exhaustive efforts of Chávez, and later also José Antonio Esquibel who continued this work, early genealogies of New Mexico's long-time Hispanic, and some Indian, families can be traced.
Thanks to those two men, one branch of my family tree can be traced back to the earliest European settlers of New Mexico who arrived in the late 1500s with Oñate's expedition.
A genealogy spanning nine generations, from 1660 to 1827, is shown on page 33 in a chapter written by José Antonio Esquibel in Seeds of Struggle/ Harvest of Faith, the History of the Catholic Church in New Mexico. This book, edited by Thomas J. Steele, S. J. Paul Rhetts and Barbe Awalt, was published by the LPD Press in 1998. On that page, the genealogy ends with the 1827 birth of Maria Viviana Martín. But in life, that genealogy continues. Viviana (also spelled Bibiana), my maternal great-great-grandmother, has hundreds of descendents, including José Antonio Esquibel, who never met each other.
One branch of that same genealogy traces back to even earlier records to a Frenchman, Jacques Grolet. And therein is another story from the history books.
Frenchman René Robert Cavelier de La Salle made more than one expedition to the New World in the1600s. He explored the Great Lakes and the Mississippi River and in 1684, claimed a large portion of what is now the continental USA for his king, Louis XIV. (For that king, it was named the Louisiana Purchase when it was purchased from France by the United States in 1803.) In mid-1684, La Salle set off on another expedition, returning to search for the mouth of the Mississippi, on what would be his final journey, with four ships and almost 300 people including soldiers, settlers and servants. This expedition landed, probably accidentally, at Matagorda Bay, Texas on the Gulf of Mexico, where La Salle planned to establish a colony. But conditions were difficult and their efforts failed.
Some of the settlers mutinied and La Salle, an arrogant, unpopular man, and some of the others, were killed. Early church records trace two survivors of that final, fateful La Salle expedition: 20-year-old soldier/sailor Jacques Grolet and 13-year-old servant Jean de L'Archèvèque. Unlike La Salle, they survived to ultimately settle in New Mexico–but not without first encountering serious difficulties along the way.
Frenchman Jacques Grolet, born in La Rochelle, France to Ybon Groleé (his father's name according to one of his enduring records), some time after becoming a resident of New Mexico, changed his name to Hispanic spelling and pronunciation: Santiago Gurulé.
This Grolet/Gurulé man married New Mexico native, Elena Gallegos (probably born around the time of the Pueblo Revolt of 1680). Hers is another story from the history books.
In 1716, some time after the death of her husband, Elena Gallegos de Gurulé (Grolet) purchased or otherwise acquired (some records say she inherited) a large tract of land from Diego de Montoya, her husband's longtime friend. Some of her descendents speculate that Montoya willed that land to her, instead of to his legitimate sons, because they were lovers. By the mid-1800s, it became known as the Elena Gallegos Land Grant. Her heirs ultimately lost that land that spanned from the Rio Grande to the Sandia Crest, because of unpaid taxes. Today, most of the city of Albuquerque sits upon the Elena Gallegos Grant, and a large public open lands area, named for her, lies in the Sandia foothills. New Mexico history's first woman known to inherit such a large expanse of land, Elena Gallegos, with her heritage and history, lives on.
In 1995, the remains of a shipwreck were discovered under 12 feet of water in Matagorda Bay, north of Corpus Christi, Texas. This 1686 wreck, La Belle, lauded as the most significant underwater archeological find in North America because of its treasure-trove of artifacts, was the smallest of the four ships of LaSalle's final and most ill-fated adventure. The recovery work took a year, from 1996 to 1997. To excavate, retrieve and ultimately reconstruct this ship, The reclamation crews built a cofferdam in the Bay. Reconstruction work continues.