BILLY THE KID RIDES AGAIN INTO CURRENT EVENTS
RWM
Billy the Kid refuses to die — not his legend nor, according to some diehards (pun intended), the Kid himself.
Most serious historians have never doubted that the young man known to history as William H. Bonney, alias "The Kid," was killed that night of July 14, 1881 in Pete Maxwell's adobe bedroom at Ft. Sumner. And they don't doubt Sheriff Patrick Garrett killed him there and then.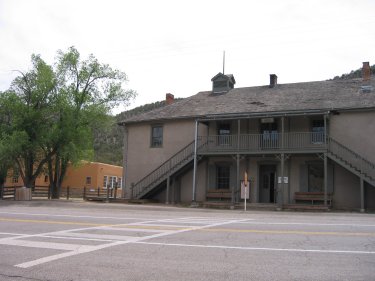 The old Lincoln Courthouse from where Billy escaped, allegedly killing deputies Bell and Olinger on his way out out of the building.
But some have created a controversy with claims that he survived (or was not even involved in) that one-on-one armed conflict in Ft. Sumner and he lived many more years. One of those controversies is the Brushy Bill version that says he lived to be a very old man in Waco, Texas, asked the then-New Mexico governor to pardon him, before dying of natural causes.
Whatever the reason — political, or to generate tourism, or to learn the truth, or to satisfy curiosity or just to keep the Kid's legend alive — an investigation of the 1880 murders, allegedly by Bonney, of deputies J.W. Bell and Bob Olinger in Lincoln has been reopened. Lincoln County's current sheriff, Tom Sullivan, and the mayor of the nearby village of Capitan, Steve Sederwall, are leading the movement. Even New Mexico's Gov. Bill Richardson has gotten involved. The investigation has expanded to also include two men — William Henry Robert ("Brushy Bill") and John Miller — who each later claimed to be the real William H. Bonney. Because of this controversy, at least two states — New Mexico and Arizona — each wants to prove Billy died on its soil.
Included in this investigation is a planned exhumation of the remains of Billy's mother, Catherine Antrim, who died and was buried in Silver City when Billy was a boy, before he began his life of notoriety. A forensic anthropologist of the state's Office of the Medical Investigator believes Catherine's exact burial site can be located. Investigators hope Catherine's bones will provide useable DNA, which in turn can be used to identify her son's remains, if they can find them. The the exact location of Billy's body in Ft. Sumner is uncertain, and DNA testing on remains more than 100 year-old might be inconclusive. Various individuals and officials object to the disturbance of Billy's mom, including mayors of Ft. Sumner and Silver City.
The opinions of the current members of the Billy the Kid Outlaw Gang are divided. Most of the Gang, many of whom are serious historians who've spent years of their lives studying the various documented histories of Bonney's life, and its board of directors, believe in "the traditional" version of Billy's death in Ft. Sumner in 1881. But about the exhumation of Billy and his mama, they are divided into three groups. One group welcomes the exhumation for further investigation of the truth. Another portion of the gang is very apposed to the exhumation. The third group is ambivalent with no preset opinion about the exhumation, one way or the other.
As a group, BTKOG advocates and practices an open forum. It is open to all opinions, provided those are inoffensively stated — whether verbal or in writing — in a polite, well-mannered fashion. The modern BTKOG members are ladies and gentlemen who, despite their personal opinions about the controversy and other issues, encourage differences of opinion about Bonney, Garrett and other historical characters of that time if properly and politely presented.
====================================
BTKOG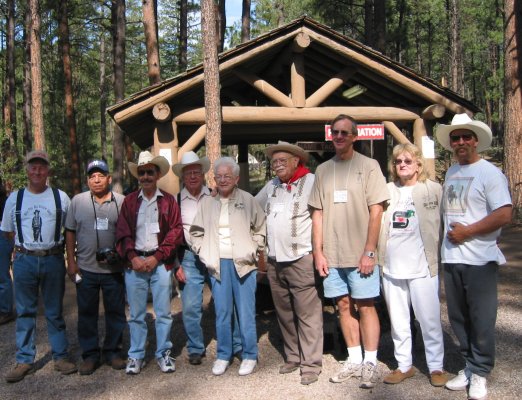 Pictured are some Billy the Kid Outlaw Gang officers for 2003-2004 who gathered with other members in July at their annual BTKOG campout in the Lincoln National Forest near Ruidoso. Pictured (left to right) are: Ronald Hadley, Gene Litka, Bob Logue, Wes "Doc" Owen, Bob "Doc" and Peg Sproull, Paul Blevins, Carol and Joe Hesseling.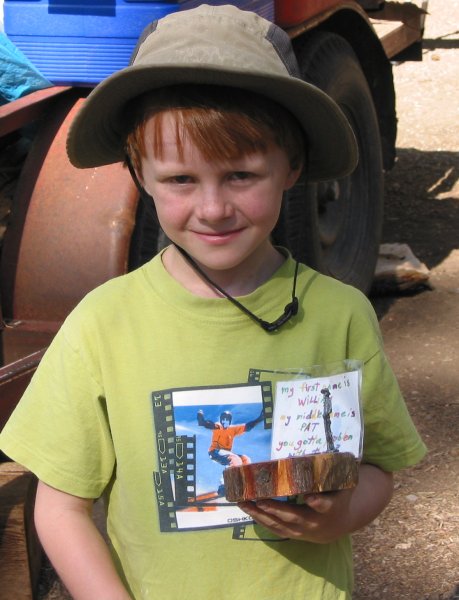 A Billy the Kid Outlaw Gang Kid, son of Paul Blevins
====================================
Continuation of
A BONNEY BALLAD
by Jan Girand
Once upon a time — well, it was more than a century ago —
there was a boy called Billy in the Territory of New Mexico.
Now Billy wasn't his name back at the beginning of his life;
they say that it was Henry and he was born to one then not a wife.
His mama's name was Catherine, and he had a brother named Joe.
His mama's last name was McCarty, so too was his and Joe's.
Most historians say Henry McCarty was born without a dad
in New York to an Irish lassie and the way they lived was sad.
Our Henry had arrived there on his birthing day
in an Irish slum in 1859, so some historians say.
Still, little is known about him, back in his early years
except knowing how to feed him was his mama's greatest fear.
They lived a while in Kansas, made a stopover in Denver too;
why they landed in New Mexico, historians have no clue.
What was it drove them onward? Why did they end up here?
Were they searching for a better life, or was it plain despair?
Some say their lives got better before arriving here
'cause Catherine took a partner to share her load with her.
At any rate, they came here, to live in this wild place,
Catherine, Joe, Henry — and Will, a guy historians trace
to Kansas on the plains, a place called Wichita.
Even then, young Henry called William Pa.
So, long before they got here, they'd ambled other places,
frustrating historians by leaving few traces.
Census, courts and archives, even churches cast
few if any clues upon our mysterious Billy's past.
One thing they know for certain (at least they think they do) —
the Santa Fe Book of Marriages holds their first recorded clue.
The widow, Catherine McCarty, in Santa Fe, New Mexico,
stood with Henry and Josie (what they called her boy Joe) —
as she said her wedding vows, the boys stood up with them
at First Presbyterian with her and William Henry Antrim.
That was the first known record establishing when he —
our Bonney lad — was in New Mexico: that was in 1873.
Like his mom, Henry McCarty right then changed his name
to Antrim. "William or Will like my new pa, if it's all the same."
Confusing historians, he was Henry McCarty just the same,
but William Henry Antrim right then became his name.
In Santa Fe the Antrims' days of wandering still weren't done;
they traveled to Silver City to bask in its arid sun.
It was there the young William Antrim, called Will,
took yet another name. "Just call me The Kid or Bill."
Then his beloved mother died of consumption or T.B.
It broke the heart of Billy; a boy he'd no longer be,
for there the young lad, Billy, began his criminality.
On a lark he stole some clothes from a Chinaman's laundry.
It was only for the fun of it, but the sheriff did not laugh.
The Kid was thrown in jail but his lock-up did not last.
The Kid determined a little space with just a cot and pail
was not to be the end of this, our cunning Billy's tale.
He conned the sheriff's deputy, and knew well how to shimmy
so he made quick his escape right up that red brick chimney.
That proved to him and all the rest his wiles and slippery ways,
and that was just the beginning of his desperado days.
(Now what could you expect, since Billy's home life wasn't sound?
And his step-dad didn't care much to have the boy around?)
He was a homely kid, buck-teeth and prominent ears,
so he relied upon his ways of charm and lack of boyish fears
to win him loyal friendships, cause girls to think him cute.
Still, his winning way was because … boy, could he shoot!
So … who was our Henry McCarty, William H. Bonney, "The Kid?"
Where did he come from, who was his ma, why did he do what he did?
Of his latter years (alas, so few), we know his story well
for many, including Pat Garrett, his stories loved to tell.
His antics, shoot-outs, hot pursuits are documented well
in books, in movies and in songs, stretched out so they would sell.
And sell they did, even in England, for folks there love a tale —
of strife, romance and intrigue as they quaff their brew and ale.
***
(To see additional portions of this poem, click the Archives button and go to Byway pages of previous issues.)
The origins and genealogy of Billy "The Kid" Bonney and his early life remain a mystery. So too is the mystery of why he, in the latter portion of his short life, adopted the name Bonney. Most published historians think that: a.) He began life in New York as Henry McCarty; b.) He changed his name to William Henry Antrim to match his stepfather's after his mother's marriage in Santa Fe in 1873; and c.) He adopted the name William H. or Billy Bonney in the last years of his life. Historians don't know from where he acquired or why he adopted the Bonney name. Serious historians admit that they are uncertain of his origins, but think he might have been born in a New York City Irish slum in 1859. Both the place and the date of his birth could be incorrect.
Billy's entire life is shrouded in mystery and controversy. Even his demise has been questioned and an official investigation is currently underway.
We will continue to explore the possibilities together in future issues.