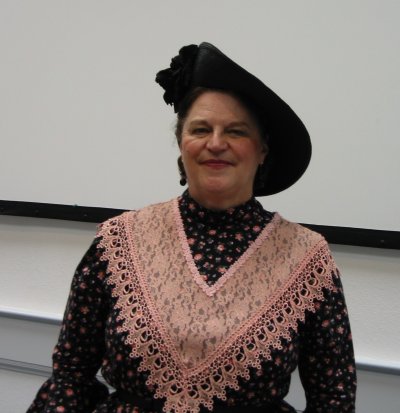 NISHA HOFFMAN PRESENTS SUSAN McSWEEN BARBER
Nisha Hoffman of Ruidoso put on a one-woman show in Roswell's Bassett Room of the Roswell Museum and Art Center on Sunday, April 4. Nisha played the role of Susan McSween Barber, widow of Alexander McSween. Both McSweens were immortalized in the state's history books because of the Lincoln County Wars of late 1870s and early 1880s. Then Susan went on to earn her own immortality on her own as a fiercely independent woman.
Nisha took her audience along on the journey of Susan's life. She began with Susan's youth, when she was raised in the German settlement of Dunkard, Pennsylvania, a community of strict Dunkard (also known as Church of the Brethren) faithfuls. She met and then, in 1873, married Alexander McSween, then a Presbyterian minister, who also became a lawyer. They lived a while in Eureka, Kansas, then set out in 1875 on a journey to New Mexico with Silver City as their intended destination. Along the way, they met Miguel Otero, U.S. Congressman, who strongly suggested they instead settle in Lincoln. He even gave them a letter of introduction to Lawrence G. Murphy. At first, it seemed that the fate of the McSweens would be linked to Murphy, but that changed when Alexander determined to establish his own competing store in Lincoln. And the rest, as they say, is history.
Nisha's portrayal of Susan accurately showed her as a brave, strong-willed woman whose own dynamic personality during daunting and turbulent times properly etched her own place in history. After Alexander McSween was killed and the Lincoln fireworks died down, Susan continued to live a productive life. She was married briefly to a man named Barber. Nisha-as- Susan portrayed Barber as a developer … that is, one who developed many illnesses. She divorced him. Susan established a successful ranching enterprise at Three Rivers near Tularosa and eventually earned herself the nickname of the Cattle Queen of New Mexico. She lived a long and eventful life and died while living in White Oaks, where she is buried.
Following is taken (with permission) from the flyer Nisha provided to her audience:
SUSAN McSWEEN BARBER
by Nisha Hoffman
One wouldn't have guessed that a red-haired young Dunkard girl would grow up to be a fiery, gutsy, independent woman who would make her way in a man's world without so much as a by your leave.
Susan was noted for her intelligence, her opinions, her love of fashion and her love of music. She was also a hard worker. Supporting "Mac" in the Lincoln County War, she may well have been the backbone for both.
"The McSween forces lost the final confrontation of that war, but most historians agree that if Alexander's and Susan's roles had been reversed, with Alex staying home to do the cooking and Susan leading the 'troops' in the field, the outcome of the war would have been quite different." The Old West, by Drew Gomber, Lincoln County Historian.
Susan went on to forge a place for herself in history by becoming the Cattle Queen of New Mexico. Eventually selling her ranch to Monroe Harper (after refusing to sell to Albert Bacon Fall, a man she disliked), she moved to White Oaks where she was known to grubstake a miner and participate in local activities. At the age of 78, she jumped from the second story of her burning home and lived to tell the tale.