ST. VALENTINE'S DAY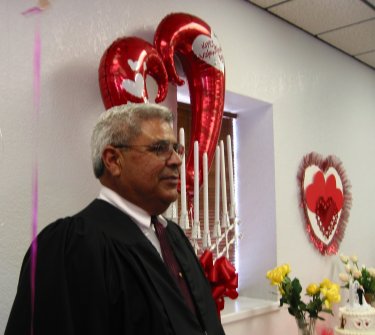 In honor of St. Valentine, court clerks elaborately decked the halls and a courtroom of Roswell's Magistrate Court with romantic finery Friday, February 14, where many weddings took place. By mid-afternoon, they had 36 weddings scheduled, and five more couples and their entourage had arrived unannounced. The number of marriages held at this popular annual event broke all previous records.
Various local businesses contributed gifts, including restaurant meals, to the couples.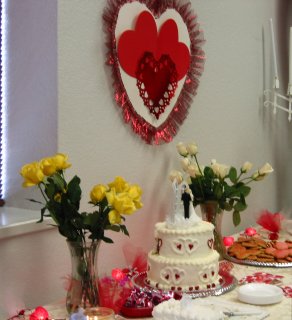 Magistrate Judge Eugene De Los Santos presided over the weddings, doing what he clearly loved to do. "This is a time of joy," he said. "We serve the public in different ways. This is a service to the community that we truly enjoy. It's so much fun!"
Before each ceremony began, the judge prompted each individual to explain why they were there. Some were uncertain what they were supposed to say until they finally mumbled, "I love her," and "I love him."
"That's it!" said the judge beaming with delight, "That's what I wanted to hear!" and the bride and groom and their small audience laughed.
Judge De Los Santos congratulated every groom for picking an outstanding, beautiful bride. Occasionally, he halted the ceremony to ask a clerk to hand tissue to a weeping bride, so she could collect herself. He wanted her eyes to be clear so she could look her groom in the eyes when she said her vows to him. If a groom stumbled over his words, the judge told him to take a deep breath, relax and do it again. Although he was gentle, warm and good-natured, Judge De Los Santos insisted that each couple fully realize the seriousness of their vows. "Your family and friends can tell you, you'll have good days and also some bad days. They may listen to you when you have problems, but they will tell you to go back home to her/him and say, "Forgive me."
To each one, he explained the symbol of the wedding ring, an unending circle. "Forever," he said, and he asked them to explain what forever meant.
Judge Eugene De Los Santos enjoyed the day as much as the brides and grooms, and he and the clerks gave them a day to remember.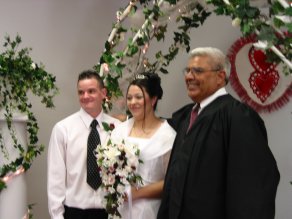 Kevin Trombla and Sandra Shamas was one of many couples wed by Judge De Los Santos
====================================
VILLA DEL REY PRESENTED A CHOCOLATE AFFAIR

The community was invited to attend Villa del Rey's eighth annual Chocolate Affair on Friday afternoon, February 14. The lobby of the retirement village and both dining rooms were decorated for St. Valentine's Day, and tables were laden with chocolate in every imaginative, delicious form.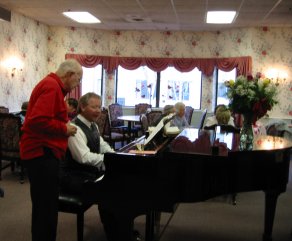 A piano player provided soft, soothing, romantic music for the appreciate gathering. It was estimated that 200 people attended, including many of the Villa del Rey residents, and they enjoyed the treats and the social atmosphere.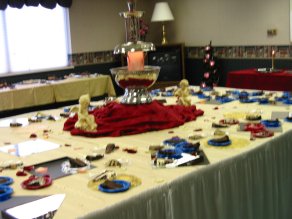 Chocolate cake, chocolate cheese cake, chocolate cups filled with chocolate cream: it was a chocolate lover's dream.
=====================================
ALMOST AN ANGEL
by Barbara Corn Patterson
Saint Mary's Hospital was where almost everyone in my small town (Roswell) was born and died. Nuns with thick German accents and who wore long black habits did all of the work: the nursing, laundry, cooking, cleaning and gardening. They were a familiar sight any time we walked down the long halls when visiting family or friends. The hard working sisters were well respected by everyone in the community.
Years later, most of the old nuns had died or retired. A few younger ones had replaced them. By the mid-1970s, their dress was more casual and their foreign accents gone, but they were still an important part of the hospital although most of the work was now down by "outside" help. The newer sisters shared the same kind of caring ways of those of my childhood.
I felt at home in the hospital when I went to work there as a Registered Nurse.
My nursing assignment for the 3-11 shift on surgical floor shortly before Christmas one year included caring for an elderly retired nun. I was already acquainted with Sister Mary Catherine, a frail but spirited little lady, who lived in the retirement section on the floor above. Her once straight spine was now painfully bent by arthritis and her poor hands were crippled into almost useless claws. Yet, she still always had a smile and spoke whenever we met.
"Hello. How are you today? God bless you my child," she'd say as she shuffled down our long hall while taking her nightly walks following the evening mass.
"Hello Sister," I would reply as I hurried on with my duties, rarely taking time to stop and visit with the poor old soul.
That afternoon, the outgoing white uniformed but slightly disheveled RN gave the change of shift report. She told us that Dr. Moore, the orthopedic surgeon, had worked on Sister Mary Catherine's distorted hands earlier in the day so she could continue using her badly misshapen fingers and hopefully relieve some of her pain. "The OR crew brought sister back to room 350 from surgery about an hour ago. She's been coughed, deep breathed, and her vital signs are stable," the nurse read from her long sheet of notes as she communicated important information to the oncoming crew of RNs, LPNs and aides.
"She's had 25 mg. of Demeral and was asleep just before I left the floor," the day-nurse concluded with a sigh of relief, her long day over.
After report, I headed down the hall to check on all of the patients on my list. My first action was to check on a couple of patients who required special attention since they were not yet stable.
I worked my way through a throng of concerned visitors in room 348 when a young male in his twenties had to have his abdominal dressing changed where it had become damp from his surgical incision. He had been admitted two nights ago with a gunshot wound and still wasn't out of the woods. All except his worried mother had to leave the room while I worked. She nodded her approval as I left.
The lady in 341-B was one of our fresh gallbladder surgeries. Her blood pressure was still a little low so I sped up the IV rate, then looked in on all the others before I went to Sister Mary Catherine's room.
I had saved her for last because she was on "reverse isolation." Everyone entering her room was required to put on a long white disposable paper gown, a head cover, surgical mask and gloves to protect the patient from a post-op surgical infection, a common practice with orthopedic patients at that time.
Once I was garbed, I went to her bedside. Her small frame looked more frail than ever draped with the white bed covers. Her face was pale but her lips were a healthy pink. She was still sleeping off the medication but I was able to rouse her enough to get a mumble of recognition and a cough to help clear the anesthetic from her lungs. I gently turned her to her side to face the window. I could hear her deep breathing, her pulse was strong and regular and the dressings on her hands were dry. Good, no fresh bleeding. There was nothing to be alarmed about. A routine case, I reasoned.
Before I left the room, I noticed the tall east window was totally exposed. The early morning sun would awaken her and be blinding in the morning if it weren't closed tonight. The shade, along with its pull, had jumped and wound itself around at the top. I brought a chair over and carefully stepped up onto the wide sill. Both of my arms were outstretched as I reached up to pull the shade back down.
"Gabriel," a tiny weak voice behind me said. I paused to listen with my arms still above my head. The voice grew stronger. "Gabriel, you've come at last!" There was no mistake about it. Sister Mary Catherine thought I was her guardian angel, an archangel at that, and I wasn't even a Catholic.
"Sister?" I replied as I listened carefully. What should I do? They hadn't covered THIS in nursing school. There was no way I could take away her spiritual vision that seemed, at the moment, to be the answer to her years of devotion and prayer.
All I could bring myself to say was "God bless you, Sister," and to give brief and reverent answers to her questions of Gabriel. I said a silent prayer of my own, asking that I might do the right thing and, "Please God, forgive me."
The old nun finally turned to her other side and was sleeping peacefully when I carefully climbed down from the window, knowing that seeing my silhouette against the light from across the room had been the reason she thought I was an angel.
The following day, Sister Mary Catherine's "miracle" was the talk of the hospital although I hadn't mentioned the incident to anyone. Everyone was talking of how she had been "blessed by an angel."
Only I knew exactly how, and I felt blessed too.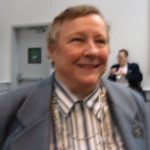 Barbara Corn Patterson
====================================
(We received this Email a while back and it is a classic!)
About Ann Margaret
Thank you Ann Margaret for supporting our military both during and after Viet Nam.
Richard, (my husband), never really talked a lot about his time in Viet Nam other than he had been shot by a sniper. However, he had a rather grainy, 8 x 10 black & white photo he had taken at a USO show of Ann Margaret with Bob Hope in the background that was one of his treasures.
A few years ago, Ann Margaret was doing a book signing at a local bookstore. Richard wanted to see if he could get her to sign the treasured photo so he arrived at the bookstore at 12 o'clock for the 7:30 signing. When I got there after work, the line went all the way around the bookstore, circled the parking lot, and disappeared behind a parking garage.
Before her appearance, bookstore employees announced that she would sign only her book and no memorabilia would be permitted. Richard was disappointed, but wanted to show her the photo and let her know how much those shows meant to lonely GI's so far from home.
Ann Margaret came out looking as beautiful as ever and, as 2nd in line, it was soon Richard's turn. He presented the book for her signature and then took out the photo. When he did, there were many shouts from the employees that she would not sign it. Richard said, "I understand. I just wanted her to see it."
She took one look at the photo, tears welled up in her eyes and she said, "This is one of my gentlemen from Viet Nam and I most certainly will sign his photo. I know what these men did for their country and I always have time for "my gentlemen." With that, she pulled Richard across the table and planted a big kiss on him. She then made quite a to do about the bravery of the young men she met over the years, how much she admired them, and how much she appreciated them. There weren't too many dry eyes among those close enough to hear. She then posed for pictures and acted as if he was the only one there.
Later at dinner, Richard was very quiet. When I asked if he'd like to talk about it, my big strong husband broke down in tears. "That's the first time anyone ever thanked me for my time in the Army," he said.
Richard, like many others, came home to people who spit on him and shouted ugly things at him. That night was a turning point for him. He walked a little straighter and, for the first time in years, was proud to have been a Vet. I'll never forget Ann Margaret for her graciousness and how much that small act of kindness meant to my husband. I now make it a point to say Thank You to every person I come across who served in our Armed Forces.
Freedom does not come cheap and I am grateful for all those who have served their country.
====================================
The Roswell Web Magazine published an article about Ken Hudnall a few issues back because of his book, The Occult Connection. He visited Roswell in July 1997 during the city's 50th anniversary of the "Roswell Incident" that has since become an annual event.
AUTHOR HONORED BY TEXAS STATE LEGISLATURE
(Austin, Texas January 23, 2003)— Ken Hudnall, an author whose works have been published by iUniverse, Inc., the leading provider of publishing technology solutions for authors, announced today…
On this date that the Texas State House of Representatives considered House Resolution #14, a bill commending Ken Hudnall on his literary achievements and extending to him sincere best wishes for continued success and happiness in the years to come. By a vote of the full House of Representatives, House Resolution #14 was passed with the sole amendment that the Legislation be signed by each member of the House.
The full text of House Resolution #14 reads as follows:
By: Pickett H.R. No. 14
RESOLUTION
WHEREAS, Robert K. Hudnall has made his home city of El Paso proud, as his captivating novels grace bookstore shelves across the nation; and
WHEREAS, Born in Murfreesboro, Tennessee, in 1953, Mr. Hudnall as ventured down several fruitful career paths: in addition to being an author, he has worked as a radio talk show host; an attorney, specializing in business law, tax, and contract negotiations; and as an instructor of computer science, business law, accounting, and estate planning; and
WHEREAS, An injury he suffered while serving in the United States Army led Mr. Hudnall to continue his education; he holds a B.S. in criminal justice and an M.S. in criminal justice administration. As well as a law degree; and
WHEREAS, Mr. Hudnall has authored several novels, which vary widely in subject; his first published work, The Occult Connection: U.F.O.s, Secret Societies and Ancient Gods, invites the reader to ponder questions about unexplained mysteries, while his later works of fiction involve thrilling tales of assassins and stories of a lost race; and
WHEREAS, In addition to his novels, Mr. Hudnal has published law textbooks for college-level classes and software manuals for use by software development companies; and
WHEREAS, Mr. Hudnall has entertained and educated many readers with his inventive story lines and intriguing narratives, and the people of Texas are honored that he has chosen El Paso as his home; now, therefore, be it
RESOLVED, That the House of Representatives of the 78th Texas Legislature hereby commend Robert K. Hudnall on his literary achievements and extend to him sincere best wishes for continued success and happiness in the years to come; and, be it further
RESOLVED, That an official copy of this resolution be prepared for Mr. Hudnall as an expression of high regard by the Texas House of Representatives.
ABOUT THE AUTHOR
Ken Hudnall is a 100% disabled veteran who has made his home in El Paso, Texas. He has published over 12 titles to date, four for the reading public and eight law related college level textbooks. His current titles include The Occult Connection: U.F.O.s, Secret Societies and Ancient Gods; When Darkness Falls; Manhattan Conspiracy: Blood on the Apple; Manhattan Conspiracy: Capital Crimes and due out in March of 2003, Manhattan Conspiracy: angle of Death. Other titles to be released in 2003 include The Estate Sale Murders and the Veteran's Practical Primer and Spirits of the Border: The Ghosts of El Paso and Ft. Bliss, Texas.
ABOUT IUNIVERSE
iUniverse puts the power of publishing into the hands of companies and individuals, allowing them to publish and distribute professional quality books and documents – on demand, in print or electronic format. As a digital publishing infrastructure provider, the company offers a unique Publishing Commerce Platform to empower individuals, companies and publishers to maximize the value of their content through seamless assembly, production and delivery. It's changing the rules of publishing. A record 750,000 books have already been printed and sold by iUniverse's over 8,500 strong author base. The company has a wide range of customer and partner relationships with industry leaders including Adobe, Barnes & Noble, Hungry Minds (formerly IDG Books) and the Author's Guild. iUniverse maintains operations in Campbell, California; Lincoln, Nebraska; New York, New York; and Shanghai, China. The company is headquartered in Campbell, Calif. For more company news and information, visit www.iuniverse.com.
Media Contact: Sharon Elias, Elias Enterprises, (915) 478-1114, Usere5411@aol.com