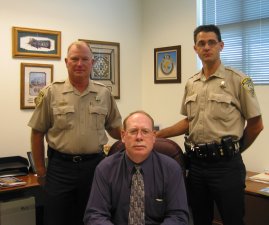 From left: Chief Deputy Rob Coon, Sheriff Patrick Jennings (seated), and Lt. Britt Snyder
THE CHAVES COUNTY SHERIFF'S OFFICE
RWM
If you were asked to list some of the responsibilities of the Chaves County Sheriff's Department, how many could you name?
They are responsible for maintaining law and order throughout Chaves County, 6,091 square miles, the fourth largest county in New Mexico.
In addition, they provide full-time officers of the court — responsible for the security of the courts and judges — and three full-time school resource officers at Roswell Independent Schools.
They serve many different kinds of legal papers, including civil process, writ of restitution, property eviction, bank foreclosure, order to show cause, bench warrants, arrest warrants, subpoenas and temporary restraining orders. Lt. Britt Snyder said they serve an average of 400 documents a month, sometimes as many as 600. They take all 911 calls outside the city limits, and all calls from cell-phones.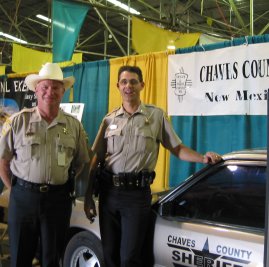 Chief Deputy Rob Coon and Lt. Britt Snyder at their Chaves County Sheriff's Office booth at the Eastern New Mexico State Fair
The SO has 61.75 total personnel. Of those, 41 are sworn full-time officers, and five are sworn part-time officers. They currently have two openings for officers. Support personnel totals 18.25. The ".25" is a dispatcher who works one day a week, while the other dispatchers are off-duty. Other support personnel are clerks, secretaries and animal control officers.
Dispatchers are responsible for the Chaves County Sheriff's Office, as well as three other law enforcement agencies — Dexter, Hagerman and Lake Arthur police departments — plus two ambulance services, seven volunteer fire departments.
The officer's standard gear is hot and cumbersome, can weigh up to 30 pounds, and is worn for 12-hour shifts. The Sam Browne is a heavy leather belt with leather keepers to keep it from sagging under the weight it carries. Leathers include a gun holster and customized leather containers and rings for its specific equipment. Standard equipment includes a loaded handgun — a .45 caliber Sig Sauer model P220 — and extra magazines with bullets for the gun, and an ASP baton, a less-lethal weapon. The ASP is a retractable-type of metal baton that can be extended to 26 inches. A small canister of 10% OC pepper spray is another less-lethal tool they carry. Standard equipment includes body armor, handcuffs with key, a radio and external microphone. This equipment resides on the officer's waist, as part of the duty uniform.
They carry additional equipment in their patrol cars, which are recent models.
They have 14 in-service video cameras, each costing $4,800, as standard equipment in their units. The video — because it visually and verbally records events as they happen — protects officers from civil liability as well as providing criminal evidence in court. In their patrol cars, they carry 12-gauge shotguns, Colt .223 caliber AR-15 rifles, and pepper ball guns. The pepper-ball guns are a fairly recent acquisition.
Basically, pepper ball guns are modified paint-ball air rifles. The rifles, effective up to 50 feet, shoot balls, about the size of a large marble, at high velocity. The hoppers of the rifles are loaded with 100-rounds of red-colored balls. If the situation warrants, officers can choose to use one of two inert balls instead of the red ones. Clear balls are filled with water and blue have talc power. The red one is filled with OC pepper. When fired, each ball breaks on impact. The velocity of the projectile causes temporary pain and bruising at the site of impact, but leaves no lasting injury. When the red ball is fired and breaks, it adds additional distress to the suspect by filling the air in the immediate vicinity with pepper powder, which causes temporary burning to the eyes and nasal passages. When the situation and time allows, officers may choose one of the inert balls that would not cause distress to others nearby, such as small children or elderly.
Pepper ball rifles have proven to be effective less-lethal weapons. The pepper that is used — whether in the pepper balls fired from air rifles, or shot from the nozzle of small OC pepper spray canisters — is the same, in varying degrees of hotness, capsicum found in hot chile peppers.
As recently as 10 years ago, the only defensive weapons an officer had were verbal, fists and handguns. They have come a long way since then.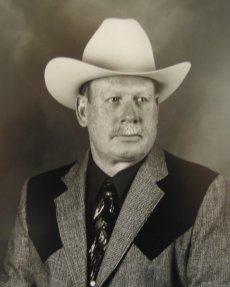 Sheriff Patrick "Pat" Jennings

Chaves County deputies credit their sheriff, Patrick Jennings, with modernizing their department, training and equipment. At various times, deputies have commented to this editor that this is a great administration, and that Pat is very supportive of his officers. One said their department has grown considerably in the past 10 years in professionalism and capabilities as well as responsibilities.
Lt. Britt Snyder said, "I have worked for the Chaves County Sheriff's Office for 13 years. During this time, I have seen the Department undergo major growth both in the size of our staff and professionalism we project. Our ability to better serve the County has been greatly enhanced. The best part of which is our CAD (computer aided dispatching) and records management systems. We process and answer calls much more efficiently."
Snyder went on to say, "We can recall information from previous calls with the stroke of a few keys. For years, retrieving some information required going upstairs and digging through boxes until you found what you needed. We now have a database full of all kinds of information, including stolen property, victims, vehicles and suspect information.
"We moved into our new building in February 2002. Our old buildings were about 6,000 square feet, our new building is 18,000 square feet. These numbers show the lack of room we had for years. (Until our move) our ability to operate efficiently was greatly compromised. Sheriff Jennings worked countless hours on the new building project to insure we got everything needed in the coming years."
Lt. Snyder added, "Sheriff Jennings would not allow the architects to waste space in our area of the building. They tired of changing drawings, but Sheriff Jennings' insistence and commitment prevailed. We have Sheriff Jennings to thank for the excellent design and work-ability of our new building."
As sheriff, Jennings increased patrol division to reduce the patrol district sizes. Under him, the Sheriff's Office has increased visibility in the county, and has added school resource officers at middle schools and at University High School. Along with Roswell Police Chief Richard Campbell, he has promoted greater cooperation between all law enforcement agencies. He has automated the records division, added a state-of-the-art dispatch center and opened a new sub-station in Hagerman.
Another positive change at the Chaves County Sheriff's Office is their uniform. Since 1983, the Chaves County Sheriff and deputies had worn brown jackets and khaki uniforms. In January of 2001, their uniforms got a sharper look
Their shirts are a "silver tan" color, and their pants, winter jacket and command jacket are a dark blue color, called "LAPD blue." Their leather, instead of brown as before, is black. Their uniform hat is gray, what is commonly called "silver belly" among cowboys. The most noticeable change is their patch, which is large, predominantly blue and gold, featuring the historic Chaves County Courthouse with its landmark green dome.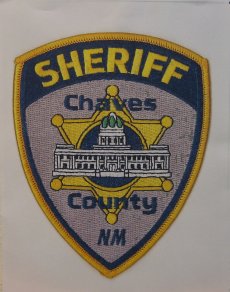 Pat has been employed his entire adult life in Chaves County law enforcement. Except for college at New Mexico State where he earned a degree in police science, Pat has always lived in Chaves County. His parents, Laura and Dr. Emmitt Jennings, are well-known in the area. His dad, a beloved Roswell physician, died in 2000. Pat's wife, Kathy, was from Dexter, so she too is a Chaves County native. Pat and Kathy have two sons, Patrick, 20, and Eric, 19, both New Mexico college students majoring in criminal justice. "They're good boys. I'm so proud of our sons," said Kathy with unmistakable pride.