NEW MEXICO MOUNTED PATROL
RWM
The President of the United States asked all citizens to volunteer at least 2000 hours a year. There is a group in New Mexico that volunteers that much every month. Members of this organization have been volunteering for 61 years. They do not read to children, or serve in a homeless shelter, or ring a bell at Christmas. They take volunteerism a step further. They put on a ballistic vest, uniform and handgun and — after hours, months, and even years of training — they patrol the streets, prairies, forests and highways of New Mexico with full-time law enforcement officers.
New Mexico Mounted Patrol is the only organization of its kind in the world. It was created by state statute as an un-funded state agency to directly assist any law enforcement or regulatory agency in the state that requests assistance. From inception, its purpose is to enforce the law, meet the needs of national defense, and to preserve the safety of the state's residents and visitors.
New Mexico Statutes Annotated, at 29-6-4, reads: "It shall be the duty of the New Mexico Mounted Patrol and the members thereof to assist in the enforcement of law by cooperating with all law enforcement agencies and regulatory bodies of the state of New Mexico when requested by them and under their direction and control, to act as an official bodyguard to the governor of this state or to distinguished visitors upon the call of the governor. ("RWM placed the emphasis upon the word "all.")
When called to duty, troopers have the same authority as the agency requesting their assistance. They must be trained and certified as Mounted Patrol troopers and must maintain annual In-Service training as provided for by the New Mexico Law Enforcement Academy. Training, equipment and duty-time are all provided for and by troopers at their own expense.
For 61 years, NMMP has, on average, annually provided the State of New Mexico with the equivalency of 24 fully equipped and trained law enforcement personnel.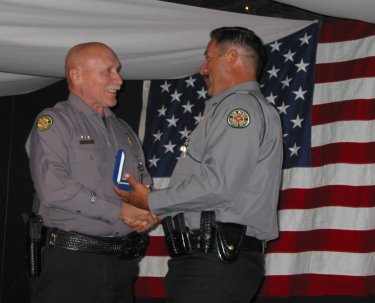 Chief Girand presenting the 2002 Trooper of the Year award to Bob Bertaldo of Troop 10, Las Cruces. Trooper Bertaldo jumped into a lake with all of his gear including handgun and saved boaters from drowning. In 2002, for only the third time, NMMP presented two Trooper of the Year awards. The second Trooper of the Year award was presented to Jerome Aguilar of Troop 18, Artesia, because an incident where he went far beyond his duties to assist a family of disabled motorists.
Every weekend and some week-nights, NMMP provides trained and equipped troopers to work with the New Mexico State Police, Motor Transportation Department, Special Investigations Division, the city police departments, county sheriff's offices, Department of Game and Fish, New Mexico Parks and Recreation and other law enforcement agencies.
Individuals who volunteer for this type of work reflect the variety of society. These are doctors, preachers, ranchers, retired persons, oilfield hands, business owners, car salesmen, lawyers and members of just about any other profession who want to make valuable contributions to their towns, counties and state. Some are retired law enforcement officers. There is a retired State Police Major, first a NMMP trooper, who decided to go full time. After he retired from the State Police, he returned, again as a volunteer, to NMMP. The wife of another NMMP trooper told her husband that if he liked law enforcement so much, he should go full time. He did. He retired after more than 20 years with the FBI and rejoined NMMP.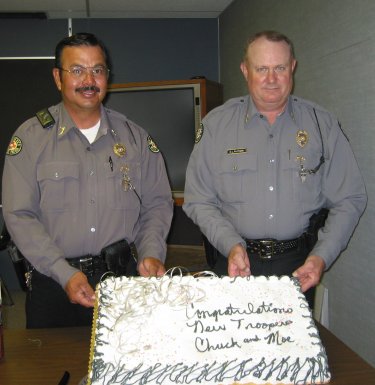 Maurice "Mo" Cantano, recently retired from the Roswell Police Department, and Chuck Pattison, recently retired from New Mexico State Police, have chosen to still wear a uniform, this time as volunteers with Troop 13 of the New Mexico Mounted Patrol.
Several generations of the same family have been in NMMP. One trooper now with 46 years in service had followed in his father's footsteps. Another family in the northeastern part of the state had a grandfather, son-in-law and grandson all serving in the organization at the same time. There have been several husband and wife troopers.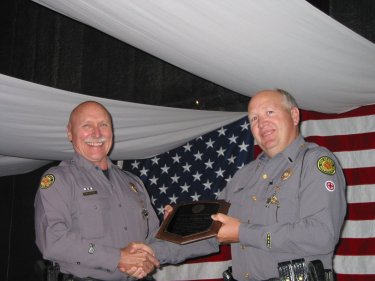 Chief Girand presenting 25-year service plaque to Robert Vail of Troop 1.
Currently, there are several troopers who have served more than 30 years with Mounted Patrol. Throughout the 61 years of New Mexico Mounted Patrol's existence, the organization has had prominent citizens among its members. Included are: state legislators, nationally renowned Hondo artist, Peter Hurd, Congressman Joe Skeen and Lincoln County rancher Will Ed Harris.
New Mexico Mounted Patrol is now the fourth largest law enforcement agency in the state, but once was larger than the New Mexico State Police and second only to the Albuquerque Police Department.
There have been as many as 400 troopers and 29 troops across the state. Since the beginning, troopers have been involved in riot control, search and rescue, traffic control, narcotic and criminal investigation, major auto and airplane accidents, manned routine and not-so-routine roadblocks, assisted city, county and state officers during inclement weather and holidays, maintained security at major forest fires, secured sites of airplane crashes, fires of questionable origin and crime scenes until the arrival of special investigators. In and nearby Roswell, Troopers also provide traffic control and security at many municipal events.
Just a few of many examples that NMMP troopers assisted law enforcement:
* When called to Santa Fe, in 1980 by NM State Police Chief Martin Vigil, to work the nation's bloodiest prison riot;

* To provide full-time policing assistance at the State Fair for more than 30 years;

* To work memorable fires such as those at Los Alamos and in the Lincoln National Forest;

* To secure the city of Albuquerque when State Police Officer Rosenbloom was killed by the Black Panthers of California and the suspects hijacked an airplane from the Albuquerque airport and flew to Cuba;

* To work the emotionally explosive 1973 garbage strike in Artesia;

* When called to man roadblocks because of a 1974 Lovington jail break;

* When requested by Gov. Gary Johnson to assist at the Republican Governors' Conference in Santa Fe; and

* When Troop 13, Roswell and Troop 18, Artesia, were called to Artesia to assist their city police with a gang problem.
According to the NMMP annual report for the year 2000, total dollars invested by troopers in their personal equipment was nearly $1.5 million; total hours by members was 61,687, and miles driven was 354,338.
Troopers, going on to become full-time law enforcement officers, tend to score at the top of their classes at the New Mexico Law Enforcement Training Academy because of their extensive NMMP training, according to 1st. Lt. Robert Williams of Roswell's Troop 13.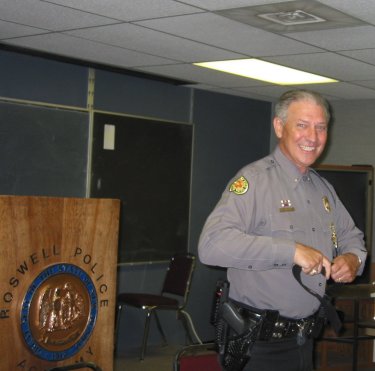 1st. Lt. Bob Williams of Troop 13 strips off his tie at the end of a recent NMMP meeting held at the Roswell Police Department.
Several active law enforcement officers, including with the city, county and state began as Troop 13 troopers, said Williams. Over the years state-wide, NMMP has provided the early training and inclination towards a career in law enforcement for countless other full-time officers.
Roswell's troop provides two state-certified instructors who teach NMMP academy to recruits. Roswell conducts two — pre-commission and post-commission — training academies a year, that fill all day Saturday and Sunday of 26 weekends, most of which are held at the Roswell Police Department.
Applicants' fingerprints are checked by the FBI and state and they undergo a complete background investigation. Recruits receive extensive training in New Mexico law, personal and public safety, firearms, first aid and various other fields. They receive training every month, most of which, for Troop 13, is conducted by Roswell Police field training officers.
Because of the amount of training required, it takes a NMMP recruit one year, beginning as an applicant, until he can wear the fully-outfitted uniform, for which he personally paid. Then he must spend another 100 hours with a field training officer and he remains on probation for six months, said Williams.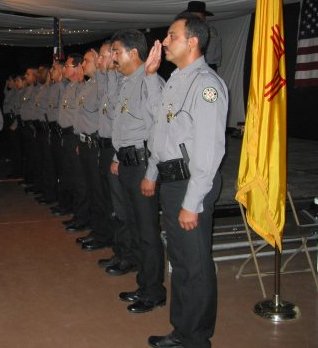 A large group of new Troop 10 and Troop 6 Mounties taking the oath at the annual convention in Las Cruces in June.
Roswell's troop averages 2,000 man-hours a year with the State Police and other agencies, and 2,000 man-hours with the Roswell City Police. To put that in perspective, one full-time equipped and trained law enforcement officer with any agency equates 2,080 man-hours.
In 1941, Gov. John E. Miles recognized the outstanding work of a small group of volunteers from Lincoln County, Santa Fe, Albuquerque, Las Vegas and Gallup who helped a then-small New Mexico State Police. He asked the Legislature to create the New Mexico Mounted Patrol. Then, all NMMP troopers provided their own horses and vehicles, and were commissioned as deputy game wardens as well as state law enforcement officers.
Also in 1941, Gov. Miles authorized troopers to bear arms while on duty, and a special NMMP motor vehicle license plate was authorized. This authorization continues.
Dan Girand of Roswell's Troop 13 previously served two two-year terms as Deputy Chief for the southern half of New Mexico and two two-year terms as Chief. In June, 2002, when this state organization celebrated its 61st year, Girand was again elected to a two-year term as Chief. Mike Childress of Roswell was re-elected to a two-year term as Deputy Chief, South, and Keith Rendell of Las Alamos was elected Deputy Chief, North. Girand and Childress also continue to serve as state-certified training officers for the southeastern NM training academies held twice annually in Roswell, and both continue to put in duty hours, along with the other NMMP troopers, working with state, county and city law enforcement agencies.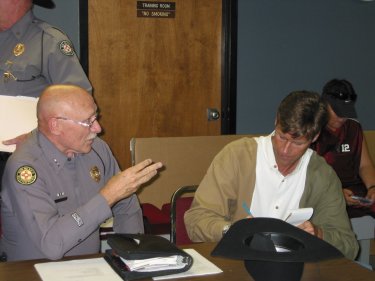 NMMP Chief Dan Girand briefs newspaper reporter.
Today, New Mexico Mounted Patrol troopers no longer ride horseback, except for special occasions. Most no longer even own horses. New Mexico Mounties ride in their own marked patrol cars or, more often, ride "shotgun" with state, county and city officers in their units.
====================================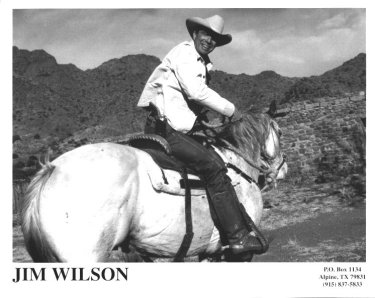 JIM WILSON
Jim Wilson was the keynote speaker and entertainer at the recent New Mexico Mounted Patrol annual convention held in Las Cruces in June 2002. He wears many hats — all of them western.
As a genuine, blue-blooded all-American Texas cowboy, he is one of a dying breed.
Wilson is currently the Handgun Editor for Shooting Times magazine and Vice President of the Western Music Association. He keeps a couple of good horses and does his riding, writing, and guitar picking in the southernmost tip of the Rockies, at Alpine, Texas.
He is a native Texan, born in Austin and raised in San Antonio. He may be a Gringo but he speaks and sings Spanglish well.
For nearly 30 years, he served as a Texas Peace Officer in Denton and Crockett Counties. In 1988, he was elected Sheriff of Crockett County (Ozona), Texas, and served in that capacity until his retirement from law enforcement in 1996.
Since then, when not on horseback, he spends much of his time entertaining people. Wilson began playing folk and country music while attending Texas Christian University in the 1960s. He said that his earliest musical recollections were of his father singing the old cowboy songs, such as "Leaving Cheyenne" and "Streets of Laredo." With the emergence of contemporary cowboy music in the 1980s, he returned to his natural musical roots.
In May of 2002, Wilson released his first album, BORDER BRAVO. Recorded in Lubbock, Texas, and produced by Andy Wilkinson, BORDER BRAVO is a collection of cowboy songs and border ballads that focus on the American Southwest and the changing frontier. Wilson co-wrote three of the album's songs, and carefully selected the rest to tell some tales of the border country, one of the last frontiers. Wilson says, "The American West and the cowboy aren't dying as some folks seem to think. They may be changing a little, but they sure aren't dying out. As long as there's a beef industry in America, and wild country to run cattle in, the American cowboy will be alive and well."
He has performed, and continues to perform, at the National Cowboy Symposium (Lubbock, TX), National Festival of the West (Scottsdale, AZ), Texas Cowboy Poetry Gathering (Alpine, TX), and the Ozark Folk Center (Mountain View, AR), among other cowboy venues around the country.
"My music is for people who live on gravel roads, and the ones who have always wanted to," says Wilson. That gives you the tone and beat of the man. "Cowboy music is a great way to keep in touch with our traditions, reaffirm freedom as western people," he said, and his music and words when he entertains and speaks to groups of people reflect his patriotism and his "down-home" Texas warmth, as well as his well-honed sense of humor.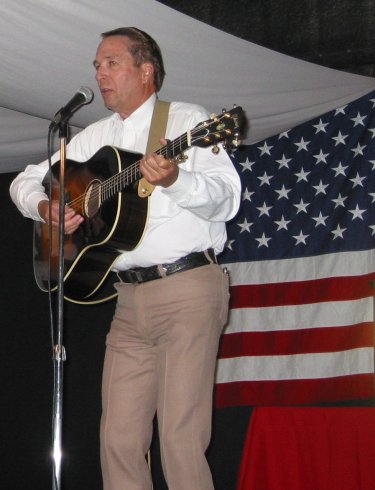 If you'd like a copy of his music, or to hire an entertaining speaker, write to: Jim Wilson at P.O. Box 1134, Alpine TX 79831 or Email: jtbarw@brooksdata.net