THE NEW MEXICO LOTTERY
(Much of the following information was in recent news releases from the New Mexico Lottery; other information came from their most recently published annual report. The Lottery logo and photos of host Cindy Corriz and Roadrunner were provided courtesy of Pat Ratledge, NM Lottery's creative services manager, to Roswell Web Magazine for this article. RWM)
She just stopped by the Allsups convenience store in Portales one day for a soda, and became $30,000 richer. This type of sudden-riches story is becoming one we hear more often all around New Mexico, thanks to the New Mexico Lottery.
The hairstylist and lifelong resident of the tiny rural community of Elida, northeast of Roswell in Roosevelt County — where she knows everybody and everybody knows her — had won a $5 Roadrunner Cash third prize, which she spent that day on a soft drink and a lottery ticket. That lottery ticket was what brought her the top prize in the New Mexico Lottery's Bonus Letter Crossword game. That same Allsups store in Portales had previously sold eight winning lottery tickets worth between $1,000 and $10,000. Convenience stores are just some of the many retailers who continue to sell winning lottery tickets all across New Mexico.
Besides owners of winning tickets, the retailers who sell winning tickets also benefit. The most important beneficiaries of the New Mexico Lottery, however, are the students of New Mexico.
The prudent business judgment, organization and management of the New Mexico Lottery should be the envy of those in the private sector, said Thomas N. Shaheen, New Mexico Lottery Authority CEO. Few, if any, private and public corporations, including most public charities, show such a high return of revenues back to their customers or beneficiaries.
The total revenues from ticket sales for last year, fiscal year 2001, was $115.6 million. Of that, only 4.4% was applied to administrative costs, and 9.9% to the cost of the product. The remainder of the revenues was returned to the customers, the retailers, and the Lottery's beneficiaries, which is our state's youth. The application of those revenues were: 22.4% to educational programs in the form of college tuition scholarships and capital outlays for schools; 54.2% paid as prizes to players; 2.2% for free tickets as prizes to customers; and 6.9% as commissions to the retailers.
Since its inception, the New Mexico Lottery has broken records from the previous year. When it marked its sixth anniversary Saturday, April 27, it already showed strong signs of breaking yet another record in sales as well as educational benefits for the fiscal year 2002.
Shaheen announced that the Lottery, since its inception, has already turned over nearly $141 million in profits to the State of New Mexico to be applied to New Mexico education. Through the end of March and the Lottery's third quarter of this fiscal year, players claimed almost $415 million in prizes, including two Powerball jackpots. In the first nine months of the fiscal year (which ends June 30), the Lottery returned more than $22.5 million for the Lottery Success Scholarship program. That is already 87 % of last year's (2001) Lottery educational profits for the entire fiscal year, and better than each of the Lottery's first three full fiscal years. Anything over $25.9 million will break a record. The Lottery has been returning more than $2.3 million in profit to the state each of the past four months.
"The New Mexico Lottery has an exceptionally high level of support across the state since we began April 27, 1996," said Shaheen. "Our players and retailers have helped generate millions of dollars for thousands of college and university scholarships."
More than 18,000 high school and GED graduates have attended college with Lottery Success Scholarships since the program began. The Lottery raises money for the scholarships, which are then administered by the New Mexico Commission on Higher Education.
Shaheen recently announced, following this six-year anniversary, that the Lottery will run a special promotion and the return of a popular scratch game for the next five weeks. This promotion will run from April 29 through June 1. The "Pick 3" game features a promotion called "money ball." If a green ball pops up in a drawing immediately after the regular drawing, all "Pick 3" prizes for that night will be doubled.
Out of the nearly $141 million in profits the Lottery has given to the State of New Mexico for education, almost $74.3 million of that has been earmarked for the Lottery Success Scholarship program. All Lottery profits are now used for college scholarships . In addition to the 18,000 students who have already received Lottery Success Scholarships, $66.5 million of the profits was used for school construction and repairs in 61 school districts.
Following a Legislative change effective June 15, 2001, the Lottery no longer provides financial aid to the Public School Capitol Outlay Fund. Because of that change, the majority of Lottery profits now is earmarked for the Lottery Tuition Fund.
New Mexico Lottery drawings are televised live on KRQE-TV (Albuquerque Channel 13), KBIM-TV (Roswell Channel 10) and KREZ-TV (Durango/Farmington Channel 6) Monday through Saturday. "Pick 3" drawings air at 10:10 p.m., and Roadrunner Cash drawings air at 10:33 p.m. Powerball drawings are broadcast live on those stations Wednesdays and Saturdays at 8:59 p.m. whenever the jackpot is $50 million or higher. Bill Harris has been the Lottery host.
Ron Miguel, Lottery vice president of sales and marketing, had announced auditions for the position of a second host for the televised drawings, encouraging both professionals and amateurs to apply. After extensive auditions and tryouts, long time New Mexico resident Cindy Corriz was chosen. She has various promotional and television experience, including commercials on-camera. Bill Harris will continue to host the drawings three nights a week; Corriz has been added to the live televised drawings for Pick 3 and Roadrunner Cash, and will eventually host the drawings the other three nights a week.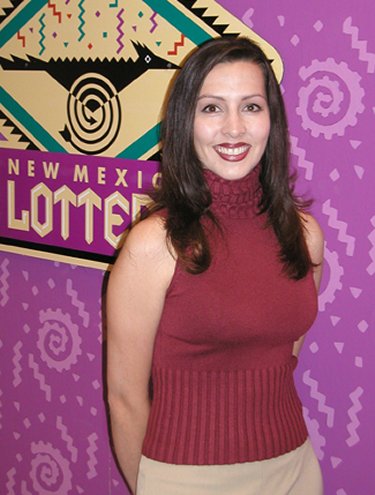 Cindy Corriz
A man from Carrizozo, in southeastern New Mexico, recently won the fourth highest Roadrunner Cash Prize, worth $170,000. He and his family made the 2-1/2-hour drive to the Lottery headquarters in Albuquerque on April 29 to present his winning ticket. The 42-year old man said he selected his winning numbers four years ago when the game began in 1998, and has used the same combination of numbers ever since.
"I thought I was dreaming," he said when he described watching his numbers come up during the live televised Roadrunner Cash drawing. The public schools in his home area of Lincoln County — Carrizozo, Ruidoso and Hondo — have received almost $1.6 million in Lottery funds for capital outlay assistance in various classroom construction and improvements. Eastern New Mexico University's Ruidoso campus received nearly $17,000 in Lottery-funded tuition assistance.
The New Mexico Lottery Authority is overseen by its board of directors. The board is a seven-member body of unpaid citizen volunteers appointed by the governor and confirmed by the state senate. Their stated mission is "to maintain a lottery that demonstrates the highest level of integrity, that players truly enjoy, and that simultaneously and responsibly maximizes additional revenue for public education." Their duties include listening to legislators, public and media, and working to continually improve the efficiency, profitability and security of the Lottery.
The management team is comprised of the chief executive officer, executive vice-president of security, vice-president of sales and marketing, vice-president of management information systems, director of finance, director of human resources, manager of communications, an internal auditor and an executive assistant. An independent certified public accountant firm audits the Lottery's balance sheets and financial statements.
The New Mexico Lottery continually assures that it has the highest level of security, integrity and honesty.
CEO Shaheen compares the New Mexico Lottery with a corporate organization in a quasi-governmental structure. Businesses in the private sector have customers, board of directors and shareholders. This state's lottery has shareholders, which are the people of New Mexico; a board of directors; and customers, who are the players and retailers. In the private sector are stock dividends, which Shaheen compares to the Lottery's profits that benefit New Mexico's educational programs. With low operating costs and a governor-appointed and senate-confirmed volunteer board of directors comprised of citizen volunteers, the Lottery is able to maximize the return of proceeds to its customers and its beneficiaries, which are the students of New Mexico.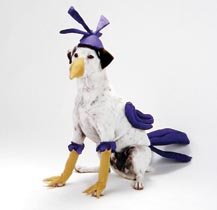 NMLA's Roadrunner
Quick Quiz: Is he a Jack Russell terrier or a bird dog?
(The above photo of Roadrunner was shot by Richard Kilmer during the commercial production of Kilmer & Kilmer, which is NMLA's advertising agency.)
Roadrunner is a seven-year old trained actor who looks amazingly like a Jack Russell terrier. He is New Mexico Lottery's TV star and scene stealer as he demonstrates, in commercials, the way unclaimed cash repeatedly rolls over to the next drawing. Besides being smart enough to do his on-camera role (pun intended) on cue, Roadrunner is a great actor and over-all good sport. Clad in a silly roadrunner costume that few self-respecting dogs (even bird dogs) would wear, in his NMLA televised commercials, he's mastered that humanesquely embarrassed, sheepish look to perfection.
Rwm

====================================
NOTICE
The New Mexico Lottery Authority board of directors held two open session meetings, on May 15 and May 16, in Albuquerque. The afternoon May 15 meeting began at noon at the Lottery Headquarters and was a FY '03 budget workshop. The board's regular meeting on May 16 was held at 4511 Osuna Road NE. NMLA is required, for reasons of integrity and security, to publicly announce their board of directors' meetings; therefore, this announcement was provided to New Mexico's print, radio, television and Internet media, including Roswell Web Magazine.
Reporters requiring additional information may contact Lance Ross, NMLA communications manager, or Nadine Guillen, NMLA public information officer.