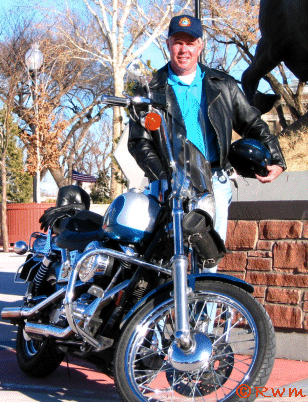 Who has played a lead role in uniting our local law enforcement agencies towards one goal of making this a better and safer place to live? Who has brought a heightened level of citizen involvement in community events, a greater spirit of cooperation and given people a more upbeat view of the city's future?
Who has a degree in law enforcement and once worked for the Federal Bureau of Investigation in Washington DC while putting himself through college at the University of Maryland?
The answer is Bill B. Owen, born and raised in Roswell, who was elected Mayor of Roswell in March of 1998.
Being mayor is a time-consuming responsibility, Owen noted. However, "My priority is my family, raising our kids. Too often people are caught up in their occupations and, until something happens, forget what their priorities really are. When something drastic happens that gets your attention, other matters become instantly insignificant."
Bill and his wife, Kay, have two children. Jerrot is a sophomore at Texas Tech University and Jenna is a junior at Goddard High School.
After clarifying that his top priority is his family, Owen settled back behind his desk in City Hall and said, "Serving as Mayor of Roswell requires me to deal, day in and day out, on many issues. I am pulled in different directions, with many issues and organizations within the community that need involvement and attention."
He went on to say, "As you can imagine, you can't satisfy everyone and can't fight every battle. I try to maintain a Tom Landry type personality and not get too worked up when things are not going well or too excited when things are going great. I try to maintain a balance, see the whole picture. There are so many issues daily, weekly, that I can't get sidetracked on just one."
He also said, "I have to delegate to others. I must have faith in our city councilors that they are equally interested in our community. I must have trust and confidence in our city staff and employees. They are experts in their fields. I know a little bit about a lot of things, but don't pretend to be an expert on anything.
"My dad, Robert 'Bob' Owen, was city manager in the 1970s and early 1980s, and he used to say to his staff, 'If you don't know more about the issue we are discussing than I do, then we're both in trouble.' My staff and employees must have expertise, and I must have confidence that the facts they present are accurate," he said.
"Confidence in them and our elected officials is very important. Without that, it is difficult to arrive at the best decision," he added.
One of the important projects during Owen's tenure as mayor is the West Second Street Project with the State Highway and Transportation Department. The contract has been awarded and the project should be completed by early summer of 2003. He hopes to see that project through to its conclusion.
Owen noted that, in the past four years, voters approved fire department and library bond issues – the first bond issues approved by Roswell voters in 17 years. That reflects the same community spirit of cooperation that has helped with its war on crime, he said.
After Owen became mayor, a crime task force was formed. "Problems were thrown on the table and solutions were found," he commented. Under the able guidance of Roswell Police Chief Richard Campbell, several new crime-reduction programs were implemented and crime in Roswell has been reduced considerably.
"Bill and I work well together," Chief Campbell later said. "It's very important to any community that the mayor and the police chief work together. You look around at any city in the country that does not have a good working relationship between mayor and police chief and you see serious problems, a disaster."
Owen said Roswell's economy had taken some hits in the past decade, but decisions and situations that caused them came from outside, beyond Roswell's control. Among examples he cited were: the last depression of the oil and gas industry that adversely affected local companies and related service industries; closure of Levi Strauss; the downsizing of NovaBUS; closures of three Furr's grocery stores; downsizing of SPS, PNM and two big banks..
However, the community has had many positives, including considerable economic development.
Some recent positives Owen cited included: increased gross receipts tax revenues; several companies associated with the airport that have moved to Roswell or increased their existing operations; the International Law Enforcement Academy, which is a U.S. State Department program that began in Roswell in 2001; and the National Guard Youth ChalleNGe Program that also began in 2001. Roswell has seen construction of new motels and new businesses, and the completion of two major streets – West College Boulevard and Earl Cummings Loop at the Roswell Industrial Air Center. Major highway construction has brought expansion of US-70 and a four-lane highway on US-285.
When he is not at City Hall attending to Roswell's business or attending meetings, Owen can be found at LDM Associates, an oil and gas exploration and development company that operates primarily in southeastern New Mexico and west Texas. He is LDM's land manager.
Owen received the 2000 Apex Citizens Award presented by the American Association of Professional Landmen, which has a membership of 7,000 and presents the award annually to individuals who make significant contributions to their communities.
Long before he was mayor, and while he is, Owen has been involved in many local volunteer activities and participates in athletics, including running marathons.
One of the finest compliments Owen could receive was paid by Roswell Police Chief Richard Campbell: "Bill Owen has done a tremendous job. This community will one day deeply regret when he is no longer the mayor. That is when they will fully appreciate what he has done for the community. "He cares and he shows it. His will be very big shoes to fill."
Rwm
====================================
Maurice W. Geldert, O.D., Fellow, American Academy of Optometry
Researchers report that as much as 40% of all adults suffer some degree of dry eye. There is no one cause of "dry eyes" and understanding how your eyes tear will help you understand what happens when something goes wrong in the system.
Our tears are composed of three parts. The watery, salty part is produced in the lacrimal glands, located above the eye. In addition, there is an oily substance, which reduces tear evaporation, and a mucin portion to thicken the tears. Our blink mechanism helps to clear the eye surface of debris, and to encourage the eye to produce new tears. Tears drain from the nasal, closest to the nose, corners of the eye into puncta (drains) located on both the upper and lower lid margins. These tears then empty into the sinus drainage, explaining why we can often "taste" our tears or medicine used in the eyes. Disrupting any part of the system can lead to problems, particularly to the cornea — which is the central tissue that we see through — and the conjunctiva — which is a normally invisible tissue over the white surface of the eye.
Many physical conditions can cause dry eye, including hormonal changes in adults, hypothyroidism, and skin conditions such as rosacea and seborrhea. Medications commonly used to control high blood pressure and to treat many common illnesses can contribute to the condition. Research has shown that people using computers don't blink as much, allowing increased tear evaporation, and partial or complete paralysis or ptosis of the eyelids can leave the front surface of the eyes exposed. The latter is not a true dry eye problem, but rather a drying problem.
If you experience frequent symptoms of dry, itchy, irritated eyes, are excessively bothered by air pollutants, smoking, wind and dust, etc., your eye doctor, Optometrist or Ophthalmologist can run one of several simple tests to determine if you have a normal tear layer. If not, the most recent method of treatment is to use small silicone inserts, placed into the tear puncta, or drains, to help retain tears longer. The procedure is done in-office, and the inserts, called lacrimal plugs, can be removed by the doctor if necessary.