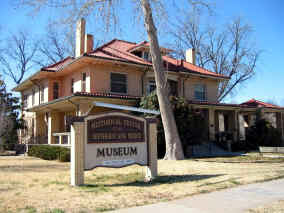 Chaves County REDTT usually meets here, on the forenoon of the second Tuesday of each month, or in the next-door Historical Archives building.

REDTT
REDTT–Rural Economic Development Through Tourism–presently provides service in 18 counties of New Mexico. Its eligible members are non-profit organizations and entities. A representative from each member group must attend at least 75% of each year's meetings to be eligible for grant funding.
REDTT was the brainchild of 2nd Congressional District Congressman Joe Skeen. He began the organization in 1992 because he saw that small rural communities, like larger ones, needed to create their own economic development. Rural New Mexico communities offer much to visitors: their areas' natural beauty as well as their unique local histories. New Mexico's REDTT had begun with five but now includes 18 counties, encompassing many villages and towns, Native American pueblos and Native American tribes.
REDTT is administered through the NMSU–New Mexico State University– Cooperative Extension Service (CES) and is supported by U.S. Department of Agriculture, CES professionals, U.S. Congressman Steve Pearce and NM's U.S. Congressional Delegation. Staffed by professionals, it has a working relationship with NMSU, CES, the REDTT county tourism councils and county extension agents, all of which are its foundation.
REDTT volunteers educate, train and assist communities in various ways to create significant tourism growth. Its mini-grant funding helps support their tourism projects including: signs that advertise their events or festivals; entertainment honorariums; and tours for tourism-related professionals to learn and write about rural New Mexico attractions.
To learn more about REDTT, visit its website: www.redtt.org. As they say there, "Visit New Mexico and be Enchanted."
In Chaves County, represented REDTT groups include the communities of Dexter and Hagerman, the Hispano Chamber of Commerce, the Historical Society of Southeastern New Mexico, Main Street Roswell, Billy the Kid Outlaw Gang Inc., Bitter Lake National Wildlife Refuge, Friends of Bitter Lake NWR, the Roswell Chamber of Commerce and the Roswell Visitor Center. The County Extension Service (CES) agent and REDTT's Program Director, George Pintar, also regularly attend meetings.