(Following was taken from www.btkog.com website)
ELLIS STORE & COMPANY–BED AND BREAKFAST IN OLD LINCOLN TOWN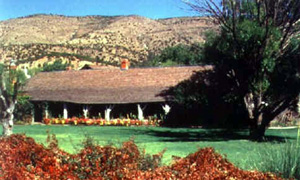 LOCATED IN HISTORIC LINCOLN, NEW MEXICO THIS IS A ONCE IN A LIFETIME OPPORTUNITY TO OWN ONE OF NEW MEXICO'S FOREMOST BED AND BREAKFAST / COUNTRY INNS.
THIS PROPERTY/BUSINESS HAS IT ALL! FIRST BUILT IN 1850 AND OPERATED AS A STORE IN THE 1870'S, THE ELLIS STORE WAS THE HEADQUARTERS FOR THE "REGULATORS" AND FROM TIME TO TIME HOUSED THE McSWEENS DURING THE LINCOLN COUNTY WAR. "BILLY THE KID" STAYED HERE UNDER HOUSE ARREST AND THE OWNER, ISAAC ELLIS WAS PAID $64.00 FOR BILLY'S BOARD!.
DR LAW, WHO WAS A PHYSICIAN AT FORT STANTON, PURCHASED THE PROPERTY IN 1905 AND USED THE PROPERTY AS A HOME/OFFICE AND FOR THE HOUSING OF TB PATIENTS UNTIL 1914.
IN 1917, RUMORS OF A RAILROAD THROUGH LINCOLN GAVE THE OPPORTUNITY TO HOUSE SECTION HANDS AND WOODSMEN. A BARRACKS BUILDING WAS MOVED OVER TO THE PROPERTY FROM FORT STANTON, AND STILL SITS AS A SENTINEL UPON ENTERING THE PROPERTY. IT IS SAID THAT IT HOUSES A RESIDENT GHOST. THE MARTIN FAMILY PURCHASED THE PROPERTY IN 1976 AND HAD A HEAVY HAND IN RESTORATION AND REMODELING FOR PRESENT DAY. IT WAS AT THIS TIME THAT CASA NUEVA WAS BUILT.
1993 MARKS THE YEAR THAT THE PROPERTY REALLY TOOK OFF WITH THE SALE TO DAVID AND JINNY VIGIL. THE REST IS HISTORY.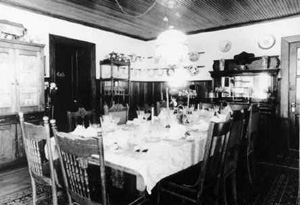 GOURMET MEALS IN THE MAIN HOUSE AROUND ISAAC'S TABLE, INTIMATE MORNING BREAKFASTS IN NANCY'S BREAKFAST ROOM, BEAUTIFUL WEDDINGS ON THE FRONT LAWN AND UNDER THE SWEEPING PORTALS OF THE MAIN HOUSE, REUNIONS WHERE THE WHOLE FAMILY ENJOYS GOURMET MEALS, FOOTBALL ON THE LAWN, AND BILLY THE KID HISTORY AT THE DOORSTEP. LAWN PARTIES, CONCERTS AND CATERING TO THE MANY CELEBRITIES AND WELL KNOWN LOCALS WHO FREQUENT AND OWN PROPERTY IN THE AREA.
LINCOLN, NEW MEXICO IS HISTORICALLY SIGNIFICANT TO OLD WEST HISTORY. THE SETTING OF THE LINCOLN COUNTY WAR, BILLY THE KID'S SHOOT OUT, HOME OF THE BILLY THE KID MUSEUM AND THE NEW HUBBARD MUSEUM OF THE WEST.
THE ELLIS STORE PROPERTY IS HOUSED ON APPROXIMATELY SIX ACRES. THERE ARE THREE MAIN ROOMING STRUCTURES INCLUDE THE MAIN HOUSE AND THE MILL HOUSE, WHICH ARE LISTED ON THE NATIONAL HISTORIC REGISTER. IN ADDITION, THERE IS CASA NUEVA, WHICH CAN SERVE AS A OWNERS HOME, BUT PRESENTLY IT IS USED AS A NIGHTLY RENTAL FOR FAMILIES AND/OR GROUPS.
THIS BED AND BREAKFAST/COUNTRY INN INCLUDES 10 GUEST ROOMS, 8 BATHS, COMMERCIAL KITCHEN, OWNERS QUARTERS, SEPARATE GUEST HOUSE (CASA NUEVA), TOTAL ACCOMMODATIONS TO SLEEP FORTY PLUS. EXCELLENT FINANCIALS AND INCOME HISTORY. THIS IS A TURN-KEY OPERATION. FINANCING CAN BE OBTAINED FOR QUALIFIED BUYERS.
$995,000.00
For a private showing or for more information, please contact:
David Vigil at 505-653-4609