EASTERN NEW MEXICO UNIVERSITY-ROSWELL,
CHAVES COUNTY'S MOST VALUABLE INDUSTRY,
PRODUCING EDUCATED CITIZENS FOR THE 21st CENTURY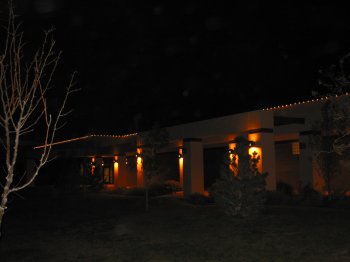 ENMU-R Instructional Training Center at night
Tuesday, November 4, Chaves County voters decide whether to renew the existing bond to extend a property tax that has been in existence for two decades benefiting, not only Eastern New Mexico University-Roswell, but all of southeastern New Mexico and beyond. This junior college campus located a few miles south of the community, on the former Walker Air Force Base, is the county's greatest resource.
Thanks to the existence of this bond, continued for more than 20 years by farsighted voters, this college campus has grown, expanded and vastly improved in that time. Its growth in enrollment within just the past two years has been tremendous and there are more interested students than space to accommodate them. As many as 25,000 students, at varying levels of study and with the various types of educational programs provided, are directly and positively affected by ENMU-R.
Judy Armstrong, Provost of the ENMU-R campus, provided this Talking Paper prior to this election.
ENMU-R BOND ELECTION COMMITTEE TALKING PAPER
1. Strategic Plan Goals:
a. Superior Student Learning – should be very proud of faculty & staff
· Medical Assistants – scored 100% pass rate on national certification exam; national average is 66%.
ENMU-Roswell students ranked in the top 9% of those taking the test
· Respiratory Therapy – 80% first time pass rate on CRT test; national average 67%
b. Community Development
· New jobs created
ENMU-Roswell – 80 new jobs at the college as a result of NM Works, grants, new programs, and program expansion – 55 new jobs, plus many part-time, temporary, as a result of our partnerships – total 235 jobs
· RCCI Grant to improve education access and community development
c. Responsible Stewardship – human, physical, financial resources
· Noel Levitz Student Satisfaction – above national norms in all areas
· Low tuition ($438.60 FT; $36.55 per hour, compared to $103.50/$1300 at ENMU; $140.50/$1686 at NMSU; $138.05/$1656 at UNM)
2. ENMU-Roswell has experienced significant growth since the last major building phase was completed in the late 1980's. A $6 million bond issue passed by voters in 1994 made it possible to renovate the former Arts and Technology Annex into the Arts and Science Center and to construct the state-of-the-art Instructional Technology Center. However, the additional space gained from these buildings is not adequate to meet the ever-changing needs of the campus as we grow into the 21st century. Additional educational partnerships, new economic development initiatives, staffing associated with new grant programs, steadily increasing enrollment, and all-time record enrollments for the past four semesters have resulted in a space shortage.
Ø Enrollment
a. The college student population, 3864
b. Another 2500 Adult Basic Education students
c. 2000 Customized Training participants
d. 500 ILEA students
e. 500 students taking upper division coursework
f. 100 Flight Safety Training pilots
g. Several hundreds of participants in our outreach programs, such as Senior Learning Connection and Kids Kollege, the number of students mushrooms to over 10,000! And this number does not include the many individuals and community groups who utilize our facilities every day of the year.
Ø Programs
a. ENMU-R offers 70 certificates and degrees in 41 academic and career technical programs
b. Classroom instruction augmented by advanced video broadcasting system and the only accredited on-line associates degree in the state (60 online classes with students from 28 states and 5 foreign countries). However, huge majority of distance students also take classes on campus
c. Through our partnerships with ENMU and other 4-year universities, students can obtain 9 bachelor's degrees and 6 master's degrees through a combination of ITV and on-site courses. Additional complete upper level degree programs are on the horizon.
From ENMU, those are:
o BBA-Accounting
o BBA-Marketing
o BBA-Human Resource Management
o BBA-Business Administration
o BUS-University Studies
o BSN-Nursing
o BAAS-Technical or Vocational Focus
o BOE-Occupational Education
o MA-English
o MS-Communicative Disorders
o MED-Education Administration
o MSE-Special Education
From New Mexico Highlands University:
o Bachelor of Social Work
o Master of Social Work
Negotiating with University of New Mexico to bring:
o Bachelor of Dental Hygiene
o Bachelor of Physical Therapy
o Master of Occupational Therapy
o Pharm D (Pharmacy degree)
Negotiating with Dona Ana Community College to bring:
o Ultrasound Technician Program
d. Adult Basic Education
e. Customized Training
f. Senior Learning Connection
g. Kids Kollege
h. Testing Center
i. Workshops, seminars, continuing education courses
Ø Partnerships
a. ILEA
b. Youth Challenge
c. Flight Safety Research Training Center
d. NM MESA
e. Operation Heartbeat – defibrillators
f. EDA University Center
g. Small Business Incubator – only two in the state
h. Rural Community College Initiative
i. US Coast Guard
Ø Facilities Needs/plan
a. Renovate and expand Building 700 into Health Sciences Center
Ø Increase enrollment in Health Occupations Programs, including Nursing and Respiratory Therapy to meet critical shortage of professionals in those fields (estimated that we will need 1 million nurses in the US by 2010
Ø ENMU-R has had a 60% increase in health programs in 4 years
Ø Statewide and national critical need
Ø State capital project request
b. Multi-purpose University Center
Ø Multi-purpose classrooms and conference rooms
Ø House 4-year and graduate level programs
Ø Accommodate commencement ceremonies
Ø Flexible space to provide conference, customized training
c. Campus Union Building
d. Residence Halls
e. Large Hangar for transport size aircraft
f. Occupational Technology Center/Small Business Incubator
g. Upgrades to existing classrooms
h. Performing Arts Center
3. Vision 20/20: Focus on the Future
Ø Approved by ENMU-R Community College Board
Ø November 4, 2003 election
Ø Will NOT raise taxes, but maintain current tax rate in effect since mid 1980's
Ø Current tax rate 1.371 mils; for a $90,000 home = $41 a year
Ø Generate up to $8.1 million for construction, renovation, and furnishing of buildings on campus over the next 10 years.
4. Additional Funding Sources
Ø State funding through CHE and legislature
Ø Federal funding
Ø Grant funding
Ø Fees from auxiliaries
Ø Private Enterprises