LINCOLN'S NATURAL FIBER FESTIVAL
RWM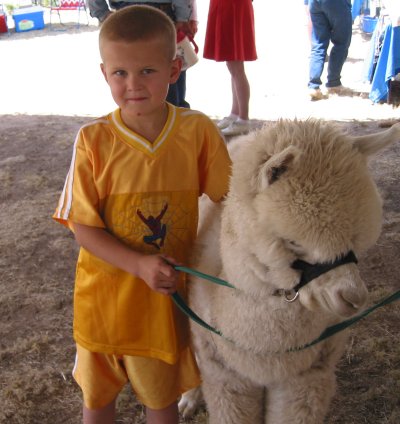 Danion Rich with an alpaca friend
On May 17 and 18, a group of folks held a natural fiber festival in historic Lincoln, complete with llamas, alpacas, sheep and goats, along with "natural fiber artists" such as spinners and weavers, and musical entertainment. It was kind of a "sheep to shawl" show and tell event.
Music was provided by Kerry Anderson on a handmade dulcimer, Lanny Maddox on an Indian flute, two fellows on guitars and a guy singing James Taylor tunes.
The festival featured the local wool and fiber industries and their artisans, who crotchet, tat, knit, weave, bead-weave, quilt and sew. Artisans also include those who handcraft the tools they use.
There were many booths showing or selling everything imaginable related to the wool, weaving and knitting industry, and other pursuits as well. Those included supplies, and spinning and weaving tools beautifully handcrafted from all kinds of beautiful woods found at the Hokett Would Work booth (the Hoketts recently relocated from San Antonio Texas to Magdalena New Mexico), to spindles of hand-spun woolen yarns and fibers, to fragrant hand-made goat milk soap from Humdinger Farms in Capitan, to people putting on live demonstrations.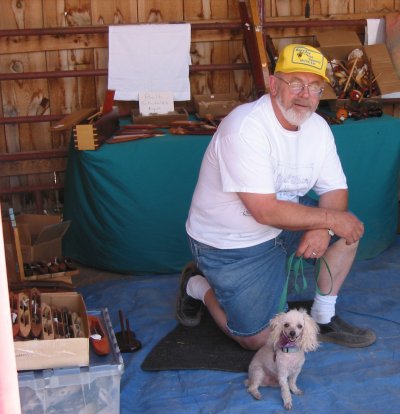 Jim Hokett in his Hokett Would Work booth with a visitor, Hojo. (Later, Hojo and alpacas were thrilled to meet. The alpacas stuck their necks through the fence as far as they could to touch his nose, and he barked happily, seeming to say, "Are you my mother?")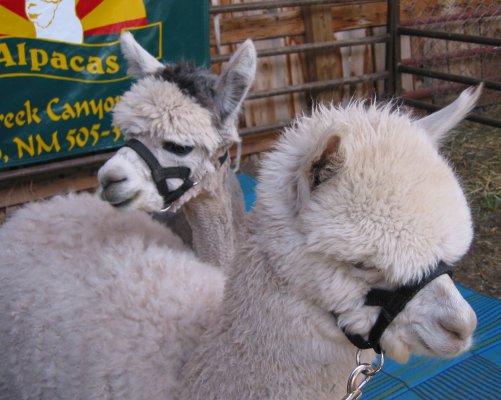 Alpacas Grady and Augustine
There were stalls with several breeds of sheep and goats. Kimberly Beauvais and Danielle Mills of Lincoln showed baby Nigerian dwarfs and Nubian milk goats.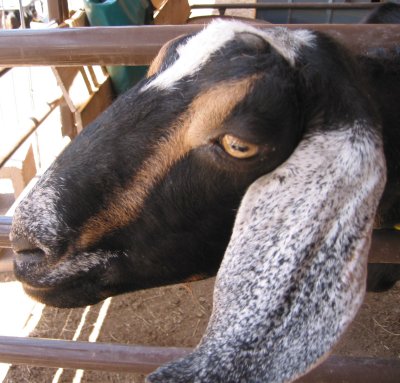 Nubian goat: "Here's lookin' at ya, kid."
Several farms raised sweet-faced alpacas and llamas.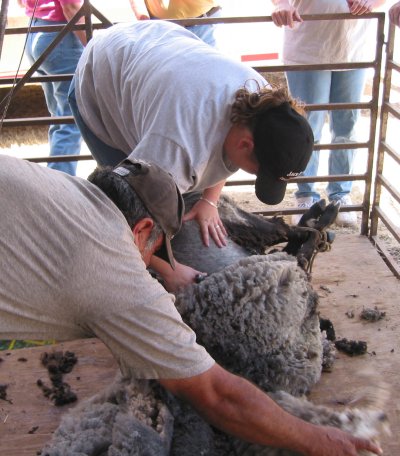 Sheep-shearing demonstration
Lloyd Maness of Richards Ranch of southeast of Corona, which raises Ramboulette sheep for wool and meat, hosted a demonstration of sheep sheering. He said a ewe produces an eight to ten pound pelt; a ram produces a pelt of 14 to 17 pounds. A $15 fleece from one sheep could make a man's three-piece suit. He pointed out that wool producers are not well paid. Each sheep is sheered just once a year, usually in early spring. The fleece is cleaned and then carded or combed, depending on the type of fiber it is. The fiber is then spun on a wheel or — even more by hand — on a drop-spindle. Sometimes the spun single-ply threads are then spun together with one or two more threads to create a thicker yarn.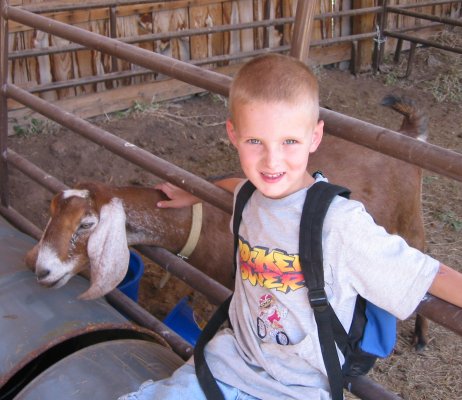 Lane Nichols and a goat friend.
The Royal Fiber Spinnery of Ruidoso, with its various mechanized pieces of equipment, processes wool and fiber — from sheep, alpacas and llamas — into yarn, marketing to knitters and weavers all over the world. Their machines process 50 pounds each eight-hour shift.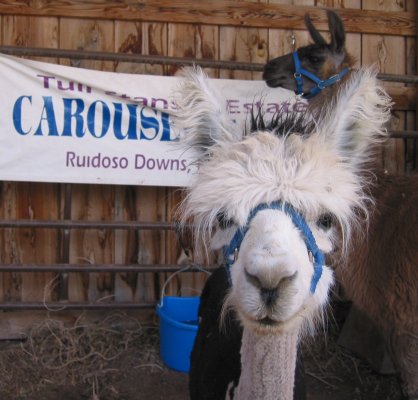 Llamas Elizabeth and Agatha from the Carousel Farms of Ruidoso Downs.
Even a mobile blacksmith set up shop. ZW's demonstrated blacksmithing and sold handmade metal yard animals.