The Little Valley Bar and Grill in Dexter has the best steaks and salads, and the warmest hospitality in the whole Pecos Valley. Try it, you'll like it!
=====================================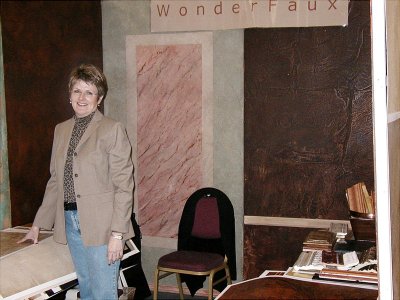 Mary Geldert in her booth at the recent Home and Garden Show. Shown behind and beside her are samples of some of the many custom finishes she offers. Geldert courtesy photo.
What is Wonderfaux and how in the world do you say it?
The word "faux" is French and is a fun little word meaning false or fake (as in not really) and pronounced "foe," so the name sounds a little like "wonderful" said with deep Southern charm. Mary Geldert, who coined the name of Wonderfaux for her business, is a southerner, as you can tell when she speaks. She originally hailed from Louisiana.
Wonderfaux began as a hobby interest. Mary attended a workshop on household and furniture finishes that deeply satisfied her creative aptitude and love of arts and crafts. She was in a Roswell paint store one day with her Wonderfaux samples when a customer saw them and began to ask questions. That led to her first commercial job. She created a wall finish in a local church and her business was born.
Mary's business of Wonderfaux is to artistically create unique one-of-a-kind premier Faux finishes on various surfaces, including walls, paneling, woodwork, floors and furniture. The finishes are called "faux" because they resemble, but are not, marble or various woods or metals including copper and gold leaf, or adobe or textured plaster or a variety of other materials. However, they are real finishes in that they are durable, touchable and highly livable.
In Mary's words: "We create the finishes to fit your interior design, color and styles. Let us transform your home into a comfortable setting using the embellishments of faux and decorative finishes. We specialize in the creation of unique and creative ways to bring your home to life using advanced finishing techniques for walls, woodwork, cabinetry, railings, columns, ceilings and any surface that warrants a creative effect.
"We break out of the traditional sponge and rag rolling methods and implement finishes that are favorable to your personalized setting and give your home the look it deserves! We are able to meet your need and budget with a large portfolio of samples and price ranges."
Mary had a booth at the recent Home and Garden Show held at the Roswell Civic Center. Her booth was comprised of several large panels, each with a different finish sample. She has a large quantity of additional finish samples to consider, but she is also open to new ideas and suggestions for colors and textures.
Her finish design styles include, but are not limited to: traditional, rustic, eclectic, Old World European, country French, contemporary and Egyptian.
She offers a free consultation in your home, business or company within Roswell and the surrounding area. Call Mary Geldert at 505-623-4082 to schedule an estimate or job consultation. She can also be reached on weekdays at her office, which she shares with her husband, optometric physician, Maurice Geldert, at Roswell Vision Source, 200 W. Wilshire Boulevard, Suite D just half a block west of North Main Street in Roswell.