NEW MEXICO'S ROSE PARADE FLOAT
All photos shown below that were taken of the NM Rose Parade float while a work in progress, were posted on the website created by Joe Micalizzi, who donated a videoed documentary for the New Mexico Historical Archives. The photos accompanying these two articles by Jay Miller are used by permission of Joe Micalizzi, www.TheMotionPictureCo.com.
"Joe Micalizzi (foreground) of The Motion Picture Co., prepares to videotape renowned float designer Raul Rodriguez at Fiesta Floats' headquarters. Mr. Rodriguez, standing in front of his rendering of NM's first Rose Parade float, talked about the design thought process. The complete interview will be part of a donated documentary for the NM Historical Archives."
The following two articles were published in many New Mexico newspapers in late December 2005 and early January 2006, and also published in Micalizzi's Rose Parade Float website. These articles are herein republished by permission of the author, Jay Miller, and are accompanied, with permission by photos from Micalizzi's website.
ROSE PARADE
by Jay Miller
Syndicated Columnist
SANTA FE–Over 100 New Mexicans from throughout the state are descending on Pasadena, California in the days following Christmas to put the finishing touches on the state of New Mexico's first-ever Rose Parade entry.
This will be a float like none of us have ever built. This is professional–no napkins, no cardboard, no paint. The superstructures of these masterpieces have been under construction almost since the last Rose Parade.
We are coming in to add the tens of thousands of flowers and other living and recently living touches, such as bark, seeds and leaves that will cover the entire surface of everything on the float.
The number of flowers on a float exceeds the amount that an average American florist will used in five years of operation. Many of these flowers will be placed in individual vials of water and set into the float one by one.
We understand our float will have many types of beans to provide the earth tones of a pueblo. And we are told to expect to be covered in glue, petals, leaves and who knows what else by the time our shifts are over.
We will work under the direction of Neil and Jeremy Conrad, two supervisors who report to Jim Hynd, the vice president and floral director of Fiesta Parade Floats, the premier float builders of the Rose Parade.
They have a decoration manual listing the materials we will use, the method of application and when we will decorate each item on the float.
They know, in four-hour increments, what will be decorated on every square inch of the huge float. There is a separate manual for the floral design team and the detail artist assigned to the float.
We will work in approximately eight-hour shifts from 8 a.m. to 11 p.m. The working conditions won't exactly be excellent. We'll be in an unheated tent. It has to be cool enough so that the flowers won't wilt. We've been told to wear work clothes, dress in layers, with a cap, gloves and comfortable shoes.
We also have been told to bring rain gear, a first-aid kit and that no smoking, food or drinks are allowed within the work area. Our hotels are over 10 miles away and parking is extremely limited. Other than that, they say we will have a great time. I'm sure we will find a way.
We were issued name badges before leaving New Mexico, which must be worn at all times. Security is very tight. We're not sure whether that's to protect us from something, protect the floats from vandalism, terrorism or industrial sabotage or to insure an efficient and orderly operation. Maybe all of the above.
Some New Mexicans will travel to Pasadena in a classic car caravan, leaving from Tucumcari on December 28, stopping for events in Santa Rosa, Moriarty and Laguna Pueblo's Route 66 Casino and spending the night in Acoma. The next night will be in Laughlin, Nevada then on to Pasadena.
Other New Mexicans will arrive sooner, some as early as December 26, when the decorating starts. Most will not arrive until the 29th or 30th, however. The float builder contracts with local non-profit groups to fill in the gaps during the early days so there will always be about 70 workers on every float.
Fiesta Parade Floats will be building several other floats in the same big tent as New Mexico's float. Reportedly, our float is not nearly the size of some of the entries by big companies. Some floats are said to run about $500,000. The cost of New Mexico's will be in the $160,000 range. But from all reports, it still will be big enough to be beautiful and stunning.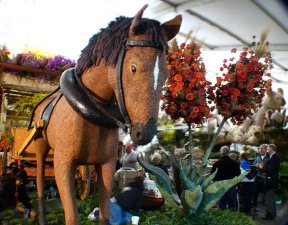 The flower attaching will end early on the evening of December 31, at which time workers will break for a New Year's Eve party organized in appreciation for all volunteers.
New Mexico's volunteer efforts will all be recorded for posterity by Joe Micalizzi, owner of TheMotionPictureCo.com in Burbank.
NEW MEXICO'S ROSE PARADE FLOAT
by Jay Miller
Syndicated Columnist
PASADENA–It rained on New Mexico's Rose Parade float but it didn't dampen the spirits of the New Mexicans who traveled to California to decorate it. Despite the distance from our hotels to the parade route, most hardy souls made it to the bleachers reserved for us on a very soggy morning.
We had put in dozens of hours apiece on our entry, many working days and nights during the week leading up to the parade. Despite the fact that we were working for full-time professionals, several in our group had greater skills and better tools.
When we arrived, early the week of the parade, the float had been constructed –mainly of steel rods and chicken wire. It has been covered with a foam- rubber material strong enough to walk on, but porous enough to ram a flower [stem] through. The roses were in plastic vials, filled with a combination of water and 7-Up. The bottoms of the vials were shaped like spears and did their jobs well.
The three-story Spanish mission, which comprised much of the float, was covered with oatmeal. Cinnamon had been rubbed on in places to soften the appearance.
The joke immediately became that if it rained on parade day, we'd take spoons and bowls to the parade and have breakfast afterward. But even after its thorough soaking at the parade, the oatmeal adhered. That must have been good paste. We hadn't been worried about eating the paste because everything had to be organic.
The Rose Parade rules went overboard on the organic thing. Wood could not be left bare unless it was covered with flowers–or other wood. We put redwood strips on top of pine. Painting it a redwood color was forbidden, because paint was not allowed.
Much of the float's surface was covered by finely chopped flowers. Food processors were not allowed and neither were blowguns. So flowers were cut with scissors until they were a fine meal and then applied to a glued surface by hand.
Obviously this required dozens of volunteers to be working at all times because there were thousands of flowers to cut and paste. The New Mexico volunteers, many of whom had lengthy experience building floats for Santa Fe Fiesta parades, seemed to work harder and faster than the local volunteers, so the supervisors often found themselves with no jobs to give out until they were allowed to turn the page in their instruction manual.
Most of our volunteers were senior citizens. Who else would have had the time and patience? But we didn't stick to the ground-floor jobs. When I arrived, I looked up to see Curt Beevers chiseling oatmeal off the cross atop the three-story mission.
The designer had decided it didn't stand out enough. And since he wasn't allowed to paint it a different color, the oatmeal was stripped off and the cross was covered with redwood strips. The job took most of the day. Beevers, an iron worker many years ago, celebrated his 76th birthday on the way to Pasadena.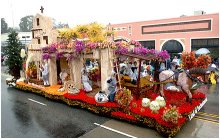 The rain was a bummer. It was the first time in 51 years [that it rained on a Rose Parade]. The day before was much better [weather]. The day after was cloudless. The floats with no people fared better. Our New Mexicans, not accustomed to rain, looked pretty miserable, except for Gov. Richardson, of course.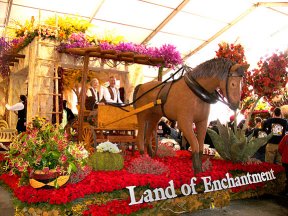 Not winning a prize also was disappointing. Our float was one of the smaller ones in the parade. Because it had nine people, representing New Mexico's various cultures, it had less animation. The judges seemed to like animation.
And even though the Land of Enchantment is magical to us, maybe it didn't fit the parade's "magical" theme well enough for the judges. Maybe we should have had UFOs crashing at Roswell and Virgin Galactic buzzing Las Cruces.
But all in all, we got in our licks with the media and tourism writers who stopped by the float decorating tent. We, and the governor, were on lots of local television promoting our state, so we felt as though we accomplished our goal.
The following float description was taken, with permission, from Micalizzi's NM Rose Bowl Parade website:
New Mexico, USA
2006 Rose Parade Float #49
Float Theme: Land of Enchantment
The State of New Mexico celebrates its cultural roots and rich heritage with its inaugural Rose Parade float. Set amid the gentle curves of historical adobe architecture, a floral collage of New Mexico's history and landscape comes magically alive in color, texture and sound. At the front of the plaza, a horse-drawn buckboard tells the story of adventurous cowboys, railroads and the Santa Fe Trail. In the center courtyard, passionate Hispanic flamenco music is performed and danced. Flanking the plaza, Native American artisans display their hand-woven baskets, jewelry, art and pottery.
The state's diverse scenery–from the high-desert and chaparral country in the south to the alpine mountain forests in the north–provides a profusion of native botanicals from indigenous pines to yucca blossoms, the state flower. Governor Bill Richardson (who was born in Pasadena) and his wife, Barbara, ride the float along with Native American artists, flamenco dancers, a Buffalo soldier and Smokey Bear.