FORT STANTON'S APPEAL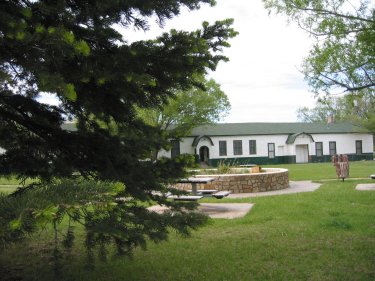 Nisha Hoffman and other members of Fort Stanton, Inc., are making strong appeals to New Mexico residents and others interested in preserving living history.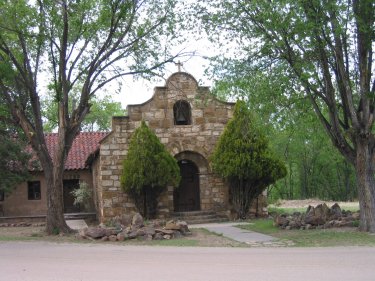 church at Fort Stanton
Fort Stanton has seen continuous service to its country and the state of New Mexico for 149 years. Kit Carson and John J. "Black Jack" Pershing served at this fort. The famed 9th Cavalry of Buffalo Soldiers were stationed there. The fort was primary in the Indian Wars of the 1870s and the 1880s. At Fort Stanton was the first hospital for the treatment of tuberculosis for the marine services in the US, and it was the first internment camp for Germans during World War II. As the cornerstone of Lincoln County, it culturally served the Apache, Hispanic and Anglo populations, and played a pivotal role in the Lincoln County War. These are just a few of the many reasons it is vitally important to preserve for posterity this historic living treasure.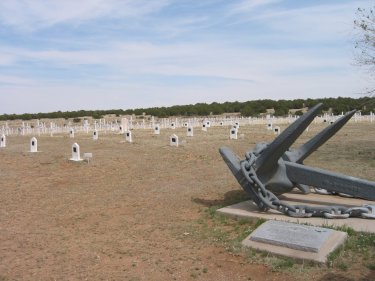 Marine cemetery at Fort Stanton
Fort Stanton, Inc. needs federal monies allocated in the 2005 budget for its continued survival, and they were told a big file of letters would make a valued impact. Write letters, if possible on letterheads, to U.S. Representative Steve Pearce as soon as possible. For security reasons, his office prefers letters via fax; that number is given below.
Representative Steve Pearce
1408 Longworth House Office Bldg.
Washington, DC 20515
Attention: Ricardo Bernal
fax 202-225-9599
Fort Stanton, its history past and present, has been presented in earlier Roswell Webmag issues, which can be accessed by clicking on the archive button.
====================================
HISTORICAL MEMORIES OF JANUARY 2004 WILL BE ASSOCIATED WITH THE TELEVISED IMAGES OF WILDLY ECSTATIC NASA SCIENTISTS AS THEY LEARN, ALONG WITH THE REST OF US, OF THE SUCCESSFUL LANDING ON MARS.
FUNCTIONING U.S. ROVERS SUCCESSFULLY LANDED — NOT ONCE BUT TWICE, JUST WEEKS APART — ON MARS AND BEGAN THEIR GEOLOGICAL INVESTIGATIONS, SENDING IMAGES BACK TO EARTH.
HISTORICALLY, THE MARS EXPLORATION BEGAN 40 YEARS AGO WHEN THE USSR MADE THE EARLIEST ATTEMPTS TO TRAVEL TO MARS, OR AT LEAST TO DO "FLY-BYS," BEGINNING IN 1960.
THOSE EARLIER UNSUCCESSFUL MISSIONS BY USSR AND U.S.A. PAVED THE WAY FOR MAN'S ULTIMATE SUCCESS. IN 1971, A U.S. MISSION WAS ABLE TO SEND IMAGES OF MARS BACK TO EARTH.
IN THE PAST FEW WEEKS, WE HAVE WITNESSED, AND SHARED THAT EXPERIENCE WITH THE REST OF THE TELEVISED WORLD, THE FIRST TRULY SUCCESSFUL MARS MISSION, AFTER 40 YEARS OF ATTEMPTS.
THE TWO LAUNCHES FOR THE CURRENT U.S.A. MARS MISSION BEGAN ON JUNE 10, 2003 AND JULY 7, 2003. AFTER TRAVELING HUNDREDS OF MILLIONS OF MILES, THEY LANDED JANUARY 3 AND JANUARY 23, 2004 WITH THEIR ROVERS — SPIRIT AND OPPORTUNITY — ON OPPOSITE SIDES OF THE PLANET. SOON BOTH ROVERS BEGAN TO DO THE EXPLORATION WORK THEY WERE SENT THERE TO DO.
THE PRIMARY PURPOSE OF THIS MISSION IS FOR MANKIND TO LEARN OF ANY PAST HISTORY OF WATER ON MARS. IT IS ALSO TO STUDY ALL OTHER ASPECTS OF THE SURFACE, INCLUDING ITS SOIL AND ROCKS, AS WELL AS ITS ATMOSPHERE.
FOR HIGH RESOLUTION IMAGES, DETAILS AND UP-TO-DATE INFORMATION ABOUT THE CURRENT MARS EXPLORATION, CLICK ON THE LINK BELOW, WHICH WILL TAKE YOU TO THE NASA'S MARS MISSION WEBSITE.
THIS SITE WILL ALSO ANNOUNCE PROJECTED MARS EVENTS IN LOCATIONS ACROSS THE COUNTRY. ONE IS SCHEDULED AT THE NEW MEXICO MUSEUM OF NATURAL HISTORY IN ALBUQUERQUE ON JUNE 6, 2004.
http://marsrovers.jpl.nasa.gov/gallery/all/spirit.html
=====================================
NASA'S BEST PHOTOS TAKEN FROM THE HUBBLE
FOR A FANTASTIC BRIEF VOYAGE INTO DEEP SPACE, COMPLETE WITH ADDED SOUND EFFECTS TO ENHANCE THE ADVENTURE, CLICK ONTO THE LINK BELOW TO SEE ACTUAL NEBULAS, NOVAS, SUPERNOVAS, STARS, SUNS AND GALAXIES AS PHOTOGRAPHED FROM THE HUBBLE.
IT'S MISSION IS SCHEDULED TO END IN 2010, AND FOUR YEARS LATER REENTER OUR ATMOSPHERE AND BURN UP. INSTEAD, ASTRONOMERS WANT THE HUBBLE TO BE REFURBISHED AND IT'S USE EXTENDED ANOTHER 10 YEARS. PRESERVING THE HUBBLE IS AN ONGOING DEBATE.
THE JAMES WEBB SPACE TELESCOPE IS SCHEDULED TO REPLACE THE HUBBLE IN 2011.
http://wires.news.com.au/special/mm/030811-hubble.htm
=================================

NEWS
FOR IMMEDIATE RELEASE JANUARY 11, 2004
CONTACT:
Lance Ross 505-342-7616 800-642-6689, ext. 7616 lross@nmlottery.com
-or-
Nadine Guillén 505-342-7615 800-642-6689, ext. 7615 nguillen@nmlottery.com
ROSWELL WOMAN WINS $129,000 ON GAME SHOW; SETS NEW MEXICO RECORD
ROSWELL – A life-long Roswell resident has set a record for prizes won by New Mexicans on the nationally-syndicated "Powerball Instant Millionaire" television game show. Kathi Silvas won $129,000, breaking the previous record of almost $71,000, by following instructions she said came in a dream.
Silvas watched the episode at home Saturday night (January 10) with about three dozen family and friends. It had been taped in Las Vegas shortly before Christmas, but she was embargoed by producers from discussing her prize until after the program aired.
The program is based on the popular Powerball lottery game played in New Mexico, plus 23 other states, the District of Columbia and the U.S. Virgin Islands. Fourteen of those 26 lotteries participate in the TV game show. Each lottery sends one contestant per episode, and at-home players receive prizes based upon the contestants' prizes.
Silvas was trying for a $1 million top prize by correctly revealing dollar signs under each letter of the word "Powerball" without revealing an "X." The nine-letter word hid seven dollar signs and two Xs. The object of the game is to get seven consecutive letters without revealing an "X," winning $1 million. Beginning with $1,000, each letter guessed correctly doubled her previous prize. Although one "X" appeared when she chose the letter "P," she kept playing until she had won $128,000 in the game's final round, plus $1,000 from an earlier qualifying round.
"I had a dream a couple of weeks before the taping," she said. Silvas followed the selections in her dream and chose her letters alphabetically (A-B-E-L-L-O-P), missing the million dollars by just one selection. However, she had another target: a light-hearted rivalry with her husband's friend, Orlando Chavez of Roswell, who had been on "Powerball Instant Millionaire" last September. Chavez won almost $41,000, and his guest at the taping last year was Silvas' husband, Gilbert.
"My initial goal was to beat Orlando," laughed Silvas, a receptionist at a Roswell radio station.
Silvas was passed over during the first two segments of Saturday's program. She was selected in the third segment, won a qualifying round, and felt the pressure as the lone contestant in the fourth segment, "Instant Millionaire," trying to win $1 million.
At one point game show host Todd Newton reminded her that she could walk away with the $64,000 she had already won, try to double her prize, or lose half if she revealed a second "X." With the studio audience shouting "Play" and "Go," Silvas was faced with two remaining letters.
"Is it the 'W' or the 'R?'" Newton asked.
"I looked for my husband," she recalled later. "What letter do I pick now? I couldn't hear his voice or see him. I had already hit an 'X,' and that was ok …. I hadn't lost anything. That 'P' cost me $800,000. I had already gotten this far. So I didn't hesitate."
She turned to Newton and said, "Let's go with the 'W' for 'win.'"
Silvas made the right choice, and her $64,000 doubled to $128,000 with a dollar sign under the "W." The "R" was hiding the remaining "X," which would have cut her prize in half. She screamed, the audience began hollering, and she started shaking as her husband rushed the stage.
The show was seen in New Mexico on the state's three CBS Television affiliates, KRQE (Albuquerque), KBIM (Roswell) and KREZ (Durango/Farmington).
She plans to use part of her prize to pay bills and remodel her home. But most will be invested in savings, with some set aside for a son's college education. Silvas plans to continue working, and said she wants to take some time off "and do some Kathi stuff" after what she called a tough year that included being laid off from a previous job.
"Before the taping the announcer said to me, 'You go, girl.' Afterward he said, 'You really took me seriously, didn't you?'" she laughed.
Even with a big prize, VIP treatment, including limousine service and first-class hotel accommodations provided all contestants, Silvas said she and her husband remained frugal the duration of the trip. The most extravagant purchase they made was a $20 souvenir tee-shirt. It was, however, the Silvas' first real honeymoon, she said …. 15 years after they were married.
But she said other contestants, members of the studio audience and even production crew members came up to her on the street during the duration of her visit, congratulating her.
"Having the studio audience root for you when you're on the set is really neat," she said. "You can really feel it. It was good to have people to share the excitement with."
She said that the impact of her prize really didn't sink until her return flight landed at the Albuquerque International Sunport.
"I saw my stepdaughter," Silvas recalled. "I started crying. I lost it and knew it was real."
And in Roswell, keeping her secret until the show aired was tough in a city in which she grew up. She would just smile and say she "did well' when friends and co-workers asked how much she had won. But people have told her that it went to a nice, well-deserving person.
New Mexico's previous $71,000 record on "Powerball Instant Millionaire" was won last spring by Mark Hendon of Alamogordo.
Scratch tickets sold as part of the "Powerball Instant Millionaire" game are among the New Mexico Lottery products that have so far raised more than $195 million for public education in the State. All Lottery profits are currently earmarked for the Lottery Success Scholarship program, which has already provided in-state college tuition for more than 25,000 students.
====================================
NEW MEXICO LOTTERY AUTHORITY
The New Mexico Lottery began April 1996, now has 63 employees, and is governed by an unpaid seven-member authoritative board of volunteers, appointed by the state's governor. The Legislative Finance Committee has advisory oversight of the Lottery. The projected fiscal 2003 sales is $137 million, all proceeds going to the Lottery Tuition Fund, which directly benefits the state's students in the form of educational scholarships.
NMLA invests today in its state's future of tomorrow.
A few NMLA employees and most of its board members gathered for its annual meet this year in New Orleans in mid-September, along with other members of the North American Association of State and Provincial Lotteries.
tour — with French Creole Marcelle, tour-guide extraordinaire — portions of the New Orleans area along with a NMLA companion in Byways of the previous issue by clicking on Archives button.
=====================================
NEW MEXICO'S LOTTERY SUCCESS SCHOLARSHIP PROGRAM
Through the Lottery Success Scholarship Program, New Mexico high school graduates (or GED recipients) who want to attend a New Mexico public college or university can get his and her tuitions paid as a result of profits from the New Mexico Lottery.
For more information visit the New Mexico Lottery Authority site: http://www.nmlottery.com/Games.htm
====================================
Since July 1, 2003, New Mexico Lottery has been providing a new vitally important benefit to residents of New Mexico. Legislature for the Amber Alert was passed, and NMLA joins with the New Mexico State Police, local law enforcement agencies and the New Mexico Broadcasters Association as partners in the Amber Alert program. Nearly 1,200 lottery retailers statewide will be notified when State Police issue an Amber Alert after a child has been kidnapped or is believed to be in immediate danger. A message will be sent to every lottery terminal in New Mexico and retailers will be asked to print out the Amber Alert message and post it in signage provided by the New Mexico Lottery. A number of high-volume retailers with flashing lighted electronic display (LED) lottery signage will also show the information.
About 20 state lotteries nationwide now participate in the Amber Alert program or will shortly. Law enforcement officials in New Mexico, Arizona, Colorado and Texas will be able to relay Amber Alert information to lottery retailers from one state to the next if conditions warrant.
====================================
YOU MIGHT BE A RESIDENT OF NEW MEXICO IF …

====================================

… SECURITY IS A FULL TANK OF GAS.

====================================

Following 2 drought status maps — effective January 21, 2004 — are from this website: http://www.nm.nrcs.usda.gov/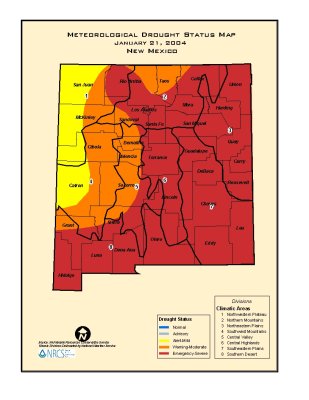 yellow = alert mild; orange = warning moderate; red = emergency severe