NASA'S BEST PHOTOS TAKEN FROM THE HUBBLE


FOR A FANTASTIC BRIEF VOYAGE INTO DEEP SPACE, COMPLETE WITH ADDED SOUND EFFECTS TO ENHANCE THE ADVENTURE, CLICK ONTO THE LINK BELOW TO SEE ACTUAL NEBULAS, NOVAS, SUPERNOVAS, STARS, SUNS AND GALAXIES AS PHOTOGRAPHED FROM THE HUBBLE.
IT'S MISSION IS SCHEDULED TO END IN 2010 AND FOUR YEARS LATER REENTER OUR ATMOSPHERE AND BURN UP. INSTEAD, ASTRONOMERS WANT THE HUBBLE TO BE REFURBISHED AND ITS USE EXTENDED ANOTHER 10 YEARS.
THE JAMES WEBB SPACE TELESCOPE IS SCHEDULED TO REPLACE THE HUBBLE IN 2011.
http://wires.news.com.au/special/mm/030811-hubble.htm
====================================
NEW MEXICO LOTTERY AUTHORITY


The New Mexico Lottery began April 1996, now has 63 employees, and is governed by an unpaid seven-member authoritative board of volunteers, appointed by the state's governor. The Legislative Finance Committee has advisory oversight of the Lottery. The projected fiscal 2003 sales is $137 million, all proceeds going to the Lottery Tuition Fund, which directly benefits the state's students in the form of educational scholarships.
Wouldn't it be nice if governmental entities and corporations could generate as much truly beneficial income with as few employees?
NMLA invests today in its state's future of tomorrow.
This year, a few NMLA employees and most of its board members gathered in New Orleans, along with other members the North American Association of State and Provincial Lotteries, for its annual meet.
Come tour — with French Creole Marcelle, tour-guide extraordinaire — portions of the New Orleans area along with a NMLA companion in Byways of this issue.

=====================================
NEW MEXICO'S LOTTERY SUCCESS SCHOLARSHIP PROGRAM


Through the Lottery Success Scholarship Program, every New Mexico high school graduate (or GED recipient) who wants to attend a New Mexico public college or university can get his or her tuition paid as a result of profits from the New Mexico Lottery.
Program Features:
* Tuition funding
* Eight consecutive semesters of eligibility beginning with the second semester of college enrollment
* No application required
How to Qualify:
* Student must be a New Mexico Resident;
* Must have graduated from a New Mexico public high school, accredited New Mexico private high school, or have obtained a New Mexico GED;
* Must have obtained the high school diploma or New Mexico GED in May 1996 or later;
* Must be enrolled full-time (currently a minimum of 12 credit hours) at an eligible New Mexico public college or university, in the first regular semester immediately following high school graduation; and
* Must obtain at least a 2.5 GPA during the first college semester and maintain that overall GPA.
For more information, simply call your college financial aid office or the New Mexico Commission on Higher Education at 1-800-279-9777.
For more information visit the New Mexico Lottery Authority site: http://www.nmlottery.com/Games.htm
====================================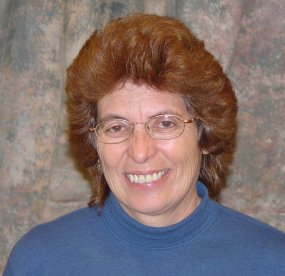 Betty Trujillo

ROSWELL NATIVE CLAIMS $25,000 POWERBALL PRIZE
ROSWELL – She would have been happy with the $5,000 she normally would have won under the circumstances. But for Betty Trujillo, a $25,000 prize is proof that New Mexico Lottery players are
winning using the Power Play multiplier option when buying Powerball tickets.

Trujillo correctly matched four of five white balls plus the Powerball in a drawing earlier this month — the Powerball third prize. However, Trujillo also paid an extra $1 to add Power Play to her $1
Powerball quick pick. And because the Power Play for that night's drawing was five, she quintupled her prize from $5,000 to $25,000.

"It made a $20,000 difference for me!" Trujillo said this week at Lottery headquarters in Albuquerque. "I've had good luck with Power Play since I started using it."
For a few days after the October 18 drawing, Trujillo didn't realize she had won. The following Tuesday, she returned to the store where she bought the original ticket, ready to buy a Powerball ticket
for the next drawing … hopefully using a few dollars she may have won to pay for the new ticket.
"The machine [lottery terminal] made a noise, so I knew I had something," she said. "The clerk stood there and looked at the ticket. She said, 'Oh my gosh, you've won $2,500.' I said, 'I think it looks like $25,000.' She didn't see the last zero."

From that point on, the prize became a family affair. Trujillo works with a sister and brother-in-law at C. Reading Plumbing, Heating and Air Conditioning in Roswell. The office was filled with "screams, tears and laughter," the sisters said. Then a third sister was called on a speakerphone, and the same reaction was repeated.

All three sisters made the trip from Roswell to Albuquerque, and their smiles never stopped the entire time the trio was inside the Lottery claim center.

Trujillo plans to use her prize to pay bills, investing and saving the rest.

She bought her winning ticket at Town & Country #172, 611 S. Main, Roswell. It is the twelfth big winning lottery ticket sold by that store, including 10 scratchers worth from $1,000 to $4,444 and
another Powerball third prize worth $5,000.

Nearly 1,000 Chaves County high school graduates have attended college with more than $2.12 million of in-state tuition paid by Lottery Success Scholarships. Chaves County school districts previously received almost $3.1 million in State construction and repair awards provided by Lottery profits. Students at ENMU-Roswell and the New Mexico Military Institute have received more than $250,000 in Lottery Success Scholarships.

Through October the New Mexico Lottery has raised almost $190 million for New Mexico education. All Lottery proceeds are now used for the Lottery Success Scholarship program, which has already benefited more than 25,000 students. Players have also won more than $440 million from the New Mexico Lottery, including more than $17 million in Chaves County.

=====================================
Since July1, 2003, New Mexico Lottery is providing a new vitally important benefit to residents of New Mexico. Legislature for the Amber Alert was passed, and NMLA joins with the New Mexico State Police, local law enforcement agencies and the New Mexico Broadcasters Association as partners in the Amber Alert program. Nearly 1,200 lottery retailers statewide will be notified when State Police issue an Amber Alert after a child has been kidnapped or is believed to be in immediate danger. A message will be sent to every lottery terminal in New Mexico and retailers will be asked to print out the Amber Alert message and post it in signage provided by the New Mexico Lottery. A number of high-volume retailers with flashing lighted electronic display (LED) lottery signage will also show the information.
About 20 state lotteries nationwide now participate in the Amber Alert program or will shortly. Law enforcement officials in New Mexico, Arizona, Colorado and Texas will be able to relay Amber Alert information to lottery retailers from one state to the next if conditions warrant.
====================================
Following 2 drought status maps — effective September 19, 2003 — are from this website: http://www.nm.nrcs.usda.gov/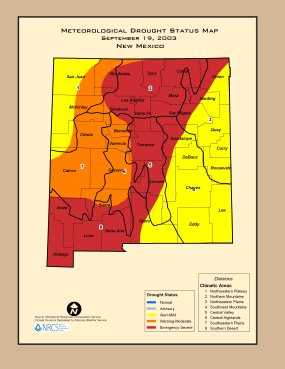 Legend:
blue=normal; lt. blue=advisory; yellow=alert, mild; orange=warning moderate; red=emergency, severe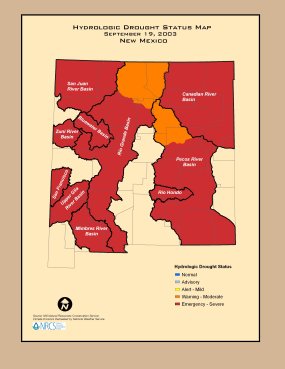 ====================================
BioChoice FLEX is specifically formulated to help lubricate and maintain healthy joints and connective tissue. BioChoice FLEX
* Maintains joint mobility;
* Supports cartilage growth;
* Promotes joint lubrication; and
* Encourages production of synovial fluid.
BioChoice FLEX contains the highest quality of glucosamine on the market. Glucosamine is a naturally occurring substance in the body that plays a significant role in cartilage formation and repair. Shellfish is the source of glucosamine in BioChoice FLEX.
Email jan@themail.us to order yours today.