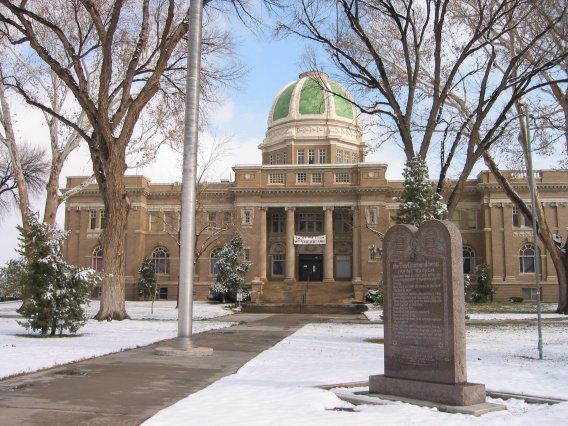 Chaves County Courthouse, photo taken early January 1, 2002, after last season's first and only snowfall. This fine old building, completed in 1912, the year New Mexico became a state, has begun to undergo historical restoration and considerable enlargement. In design and facade, the new will match the original part of the building, but the whole will be much more user-safe and user-friendly, extending its usefulness far into the new millennium. RWM
=====================================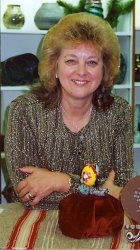 Pat Beason with her New Mexico "Faberge" Egg (Photo by Carrol T. Tracy)
CARLSBAD ARTIST PAT BEASON
by Carrol T. Tracy
New Mexico artist Pat Beason can't remember a time when she was not involved in painting. Pat was born in Idabel, Oklahoma, and while she was growing up, her grandmother, a teacher to the Choctaw Indians at Kulitucalo, took her many times to the one room school house where she taught them.
For more than 25 years, Pat has taught art classes and workshops in Carlsbad, as well as in Texas, Oklahoma, Arizona, and Colorado. Sharing her talents with others and seeing the results of her students' work is a rewarding feeling. Being a designer for several paint companies, she has written articles for different magazines, and authored a book "Southwest Christmas," published by Darrow publishing in 1990.
Several years ago, Pat attended the International Eggery Show in Dallas, Texas and became fascinated with Faberge Eggs. The excitement of learning this fine art craft, and adapting her paintings to the cut egg, became a new challenge. After one year of working just with eggs, a web site was created to show her new creations. The Director of the International Show for 1998 saw her site, and invited Pat that year to exhibit there, and she brought home several honors. Each year since, she attended the International Show with new designs and honors. With this recognition, she was contacted in 2000 by the American Egg Board, along with other artists from the 50 states, to submit a design that would best represent her New Mexico State for the annual egg festivities, held at the White House for the year 2001. With the notification that her design had been chosen for the State of New Mexico, the challenge of meeting dead- lines was exciting. She, along with all the other artists whose eggs had been chosen, received an invitation from First Lady Laura Bush to attend a luncheon and she also received a picture of Mrs. Bush standing by the egg display.
In 2001, there was a call for all New Mexico artists to participate in a charity project, Trail of the Painted Ponies, involving life-size fiberglass horses. Artists submitted their designs for approval. Pat submitted six designs. All were approved and four received sponsorships. These horses painted by Pat were: Peaceful Spirit, Muy Caliente, Horsienda and Tightly Woven. Pat was the only N.M. artist to paint four horses for this project. Monies received from sales of the Painted Ponies go directly to the charities chosen by their sponsors.
Pat's art works are in collections all over the world and she has not limited herself to painting conventional surfaces. Room divider screens and Indian drums are also a big part of her creative painting.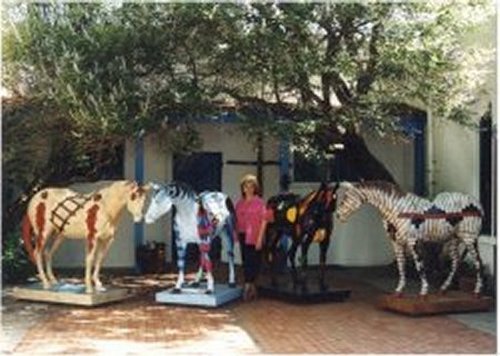 Photo of Pat Beason and her ponies courtesy of Carrol Tracy
Beneficiaries of Ponies Painted by Pat Beason
by Carrol T. Tracy
Proceeds from the sale of "Muy Caliente" will go to Girl's Inc. of Sun Country Youth. This non-profit organization has served the youth of south Eddy County, New Mexico for many years through elementary age after-school programs, community service, day camps and other supervised activities. The purpose of this organization is to build children's self esteem, community awareness, character development and life skills. The proceeds from "Muy Caliente" will become part of a fund at Carlsbad Foundation; the interest income will be a permanent funding source for Girl's Inc. of Sun Country Youth programs.
Proceeds from the sale of "Peaceful Spirit" will benefit the Carlsbad Area Art Association, Inc. and Carlsbad Education Center of the Arts. Those are non-profit organizations dedicated to the promotion and advancement of original, creative fine arts and crafts in Carlsbad and surrounding areas by means of activities like exhibitions, lectures and art appreciation. Their mission is to encourage creativity, enhance the awareness of art by education and to expose the community to art through quality hands-on art programs through CECA. The proceeds from "Peaceful Spirit" will become part of a fund at Carlsbad Foundation; the interest income will be a permanent funding source for CAAA and CECA programs.
The sale of "Horsienda" benefits Altrusa Inc. of Carlsbad, an organization of professional women and men dedicated to community service. Their major projects are the "Baby Think It Over," the "Breakfast With Santa" and "Literacy." They also financially support other worthwhile endeavors. The "Baby Think It Over" project is conducted in the middle and high schools in Carlsbad and the high school in Loving. It was fortunate to receive a grant from the Carlsbad Foundation for the past three years to purchase these "Babies" for the schools. "Breakfast With Santa" is a fun time at Christmas for Altrusans, their spouses and special children of Carlsbad when breakfast is served to a large group of foster children and their foster parents. Santa comes to visit and children leave with smiles on their faces, full tummies, pictures of themselves with Santa, and small sacks of goodies, provided by generous community sponsors. Altrusa financially supports the "Ann Wood Literacy Center" and some Alrtusans work as tutors at the center. Altrusa Inc. is a non-profit organization.
The sale of "Tightly Woven" benefits First Assembly of God of Carlsbad. Proceeds will go to the building fund for a Family Outreach Center. With the current world situation, the church should stand Tightly Woven with God, Community and Nation to show it's love for an outreach of family values.
(For another article and more information on New Mexico's Trail of the Painted Ponies project, and photos of some of those gorgeous painted ponies from Carlsbad and Roswell, look at the previous (November) issue by clicking on the Archives button. That will also show you where these ponies are currently stabled around Carlsbad and Roswell. RWM)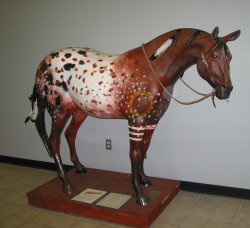 HORSE FEATHERS, by artist Loren Creech, is sponsored by and sale benefits Chaves County Crime Stoppers. Horse Feathers is displayed in the lobby of the Roswell Police Department. RWM
Pictured below, up close and personal, is Jazz on a Hot Tin Roof, by artist Kim Wiggins. For this and more pony photos, go to Archives, Issue 9.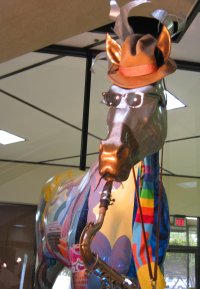 ====================================
CRISIS ON THE PECOS
The New Mexico Interstate Stream Commission (ISC) staff announced the first showings of the video "Crisis on the Pecos" with the following flyer. This video was produced for the ISC to create additional awareness of the urgent situation New Mexico faces in complying with the Pecos River Compact and U.S. Supreme Court Decree. These first showings were scheduled for Sunday, November 24, at 11:00 a.m. on KRWG in Las Cruces, and on Friday, November 29, at 8:00 p.m. on KNME in Albuquerque.
This announcement of the television special was made by Rebecca King, Water Resource Specialist, Sr., New Mexico Interstate Stream Commission, 407 Galisteo Street, Santa Fe, NM 85702 (505) 827-4077 Fax: (505) 827-6188
SOUTHEASTERN NEW MEXICO FACES DEVASTATING CONSEQUENCES IF IT FAILS TO MEET ITS WATER DELIVERY OBLIGATIONS TO TEXAS UNDER THE PECOS RIVER COMPACT.
Learn how the State and Pecos River Basin water users propose to solve the problem.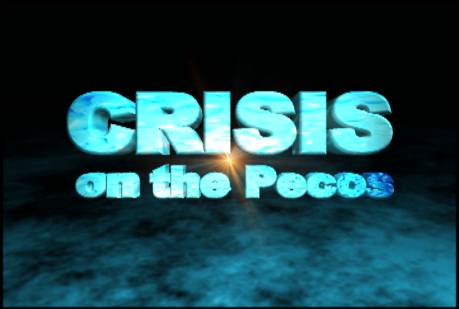 11:00 am
Sunday, November 24KRWG-TV, Las Cruces
8:00 pm
Friday, November 29
KNME-TV, Albuquerque
This program is also aired December 18.
Produced by Cooney Productions for the New Mexico Interstate Stream Commission; Norman Gaume, Director
====================================
BioChoice FLEX is specifically formulated to help lubricate and maintain healthy joints and connective tissue. BioChoice FLEX
* Maintains joint mobility;
* Supports cartilage growth;
* Promotes joint lubrication; and
* Encourages production of synovial fluid.
BioChoice FLEX contains the highest quality of glucosamine on the market. Glucosamine is a naturally occurring substance in the body that plays a significant role in cartilage formation and repair. Shellfish is the source of glucosamine in BioChoice FLEX.
call 505-623-0640 to order yours today.