Editor's Note: About the author of the article below: Kaarina Jager, born on the Artic Circle in northern Finland, has lived in Roswell for 21 years. She speaks several languages; English is a secondary one. She is a widow with two sons, one of whom currently attends college at New Mexico State University in Las Cruces. Her other son, Austhan Jager, died on December 29, 2002 while in high school after a long heroic battle with cancer. Because Roswell was hometown to both of her sons and in memory of Austhan, and also because she wants to leave a personal legacy to her adopted town, Roswell, Kaarina hopes to promote it–to local residents, including its school children, as well as to tourists, as she had done and is again doing in her hometown of Naantali.
Following is excerpted from two of Kaarina's articles, one originally titled Vallis Gratie since 1443.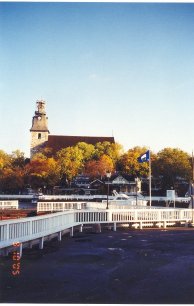 (Old Town Harbor and Old Convent Church in Naantali. Sept. 2005 photo by Kaarina Jager.)
NAANTALI, FINLAND
by Kaarina Jager
The town of Naantali was founded to serve the convent of St. Bridget on the southwestern Finnish Baltic coast in 1443 by the order of the Swedish king. Every house was to have an inn, a bed and breakfast service, for the pilgrims and their horses. This tradition of hospitality has stayed with that small town of a few hundred people throughout the centuries.
Today a modern oil refinery and the third largest Finnish harbor are located there and provide a tax base for the development of the Old Convent Church and Historic District, as well as for the building of the new Spa and Children's Adventure Park.
I was fortunate to be called to attend tour guide classes this past fall of 2005 in my ancestral hometown of Naantali. The course is organized by Naantali Tour Guide Association and Finland's Tour Guide Association, and for a large part, financed by a European Union grant. Several weekly classes and fieldtrips are included in the course (for about a semester and a half) and the 25 participants are expected to pass an extensive written exam, write a research paper, and also pass a practical tour guide exam.
I was asked to do the tours in English for the benefit of the many foreigners who visit Naantali Classic Music Festival or the Moomin Children's Park during the summer season. My course is not quite over, although I did finish my required research paper; the subject I chose was my family's life in Naantali over the last 500 years. I still need to take my finals and do a "practice tour" exam.
Naantali has been a popular tourist resort for centuries, and expects over 600 busloads of visitors this coming summer, not to mention individual travelers. Many are from around the world, but visitors are also local schoolchildren on field trips.
Naantali Travel is a private travel bureau consisting of the City of Naantali (now 14,000 inhabitants), the Tour Guide Association, and other private businesses like the Naantali Spa and Children's Park. The agency markets the city and its services and develops travel packages including: restaurants, cafes, hotels, local and nearby locations of interest.
For about 30 years, in one form or another, there has "officially" been an organized effort to promote tourism in Naantali and other Finnish towns. I, for example, took part in my first tour guide classes in a nearby college town some 30 years ago and was a tour guide during my summer vacations when I lived in Finland.
Here are just a few of the many sites we toured and topics we studied in my current class: Finland's Presidential Summer Residence, Kultaranta, and 100 years of Finnish presidents; Old Town and Old Convent Church archeological sites; Naantali Historical Museum with its Convent Exhibit; the Mannerheim Estate, home of the country's president; Askainen Medieval Church; the Community Center Kummeli in Velkua; medieval churches of Lemu, Merimasku and Rymattyla; the Old Town Historical District; history of the Naantalie Spa and the New Spa tour; the enduring small individual industries of knitting socks; water, air and land environmental protection of the 30,000 Baltic Islands; ballads and poems of Coppermountain; area plant life and birds, flora and fauna; industries and assets including fishing, farming, ranching, shipyards and harbors on the Baltic Coast; history of women in business; Finnish language and its southwestern dialects; the annual Book and Food Fair; the state's Lutheran Church history including the new Parish Hall; the life and influence of St. Bridget in Finland; the new Ecumenical Chapel; the history of the Convent Church and the Convent; Raisio Medieval Church and Medieval life in Finland; history of development of the state's religions: Kalevala, Catholic Church, Lutheran Church and newer religious groups; the town's and its schools' histories; the history of Naantali Harbor and its major industries; Cemetery tour; sports: ice hockey, figure skating rinks, sports stadium and gyms; city government; Naantalie Summer Classic Music Festival; and the Moomin Children's Park. Our training even included first aid.
From the above, you can see how extensive the course is, even for a small town.
History of visitors to Naantali goes back hundreds of years starting with the pilgrims, continuing a few hundred years later with the addition of Russian and Swedish visitors to the "old spa," and today, includes local school children learning about their roots and international visitors touring its many attractions. The tour approach is varied; it is set upon strong traditions and a formidable tax-base!
Each town must discover its own roots, build on them, develop their sites, educate its people and tour guides, and market its unique history and attractions to visitors.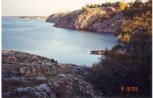 Coppermountain Rocks in Naantali. Sept. 2005 photo by Kaarina Jager